The Jordan, Knauff & Company (JKC) Valve Stock Index was up 6.6 percent over the last twelve months, while the broader S&P 500 Index was up 16.5 percent. The JKC Pump Stock Index increased 10.1 percent for the same time period.1
The Institute for Supply Management's Purchasing Managers' Index (PMI) increased 2.0 percent to 60.8 percent in September. The production index recorded its fourth consecutive month of above-60 readings, increasing 1.2 percent to 62.2 percent. The new orders index improved 4.3 percent to 64.6 percent and suggests strength in manufacturing will continue for the next couple of months. The prices paid index jumped 9.5 percent to 71.5 percent with survey respondents citing higher input costs due to recent hurricanes.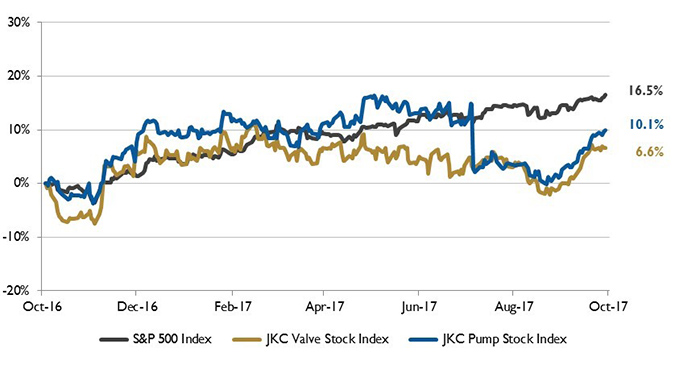 Figure 1. Stock Indices from October 1, 2016 to September 30, 2017. Local currency converted to USD using historical spot rates. The JKC Pump and Valve Stock Indices include a select list of publicly traded companies involved in the pump and valve industries weighted by market capitalization. Source: Capital IQ and JKC research.
The U.S. unemployment rate fell to 4.2 percent in September, the lowest level since December 2000. Major hurricanes Harvey and Irma halted hiring during the month and temporarily prevented as many as 1.5 million people from getting to their jobs. The economy lost 33,000 jobs in September, the first decline since 2010, with the restaurant industry losing 105,000 jobs.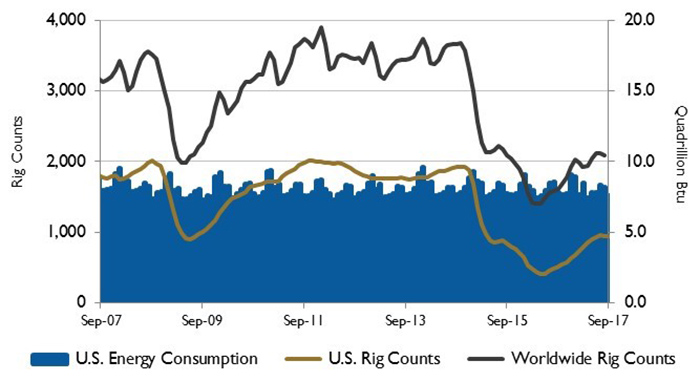 Figure 2. U.S. energy consumption and rig counts. Source: U.S. Energy Information Administration and Baker Hughes Inc.
In the first half of the year, U.S. crude oil exports increased 57 percent over the first half of 2016 and distillate exports grew 14 percent reaching a record high of 1.3 million barrels per day. Despite strong domestic demand, U.S. exports of motor gasoline averaged a record high of 756,000 barrels per day in the first half of 2017, a 3 percent gain from the first half of 2016. Exports to Central and South America increased 24 percent over this time period.
Total propane exports reached a record high of 913,000 barrels per day in the first half of the year, with most of the increase going to Asian markets. Since 2014, total U.S. propane exports have grown with the expansion of export infrastructure. Lower tanker rates and additional locks in the Panama Canal have lowered export costs.
Driven by strong economic growth in Asia (especially China and India), the U.S. Energy Information Administration projects that world energy consumption will grow by 28 percent between 2015 and 2040. Although nonfossil fuels (renewables and nuclear) are expected to grow faster than fossil fuels, fossil fuels will still account for more than three-quarters of world energy consumption through 2040. Natural gas is expected to be the fastest growing fossil fuel with global natural gas consumption increasing by 1.4 percent per year due to abundant natural gas resources and rising production.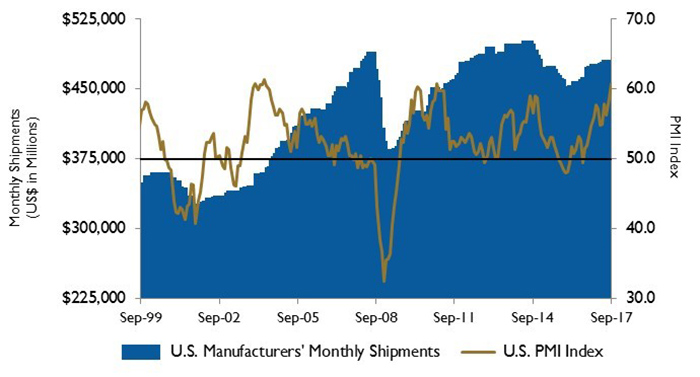 Figure 3. U.S. PMI and manufacturing shipments. Source: Institute for Supply Management Manufacturing Report on Business and U.S. Census Bureau
On Wall Street the Dow Jones Industrial Average rose 2.1 percent, the S&P 500 Index increased 1.9 percent and the NASDAQ Composite grew 1.0 percent for the month of September. For the third quarter, the Dow, the S&P 500 and the NASDAQ gained 4.9 percent, 3.9 percent and 5.8 percent, respectively. The markets were boosted by the Federal Reserve Bank's announcement of the unwinding of its $4.5 trillion balance sheet and the indication that an interest rate increase was likely in December. The administration also unveiled tax policy reforms intended to decrease corporate and individual taxes.
1 The S&P Return figures are provided by Capital IQ.
Issue