The Jordan, Knauff & Company (JKC) Valve Stock Index was up 4.5 percent over the last 12 months, while the broader S&P 500 Index was up 3.6 percent. The JKC Pump Stock Index decreased 5.1 percent for the same time period.1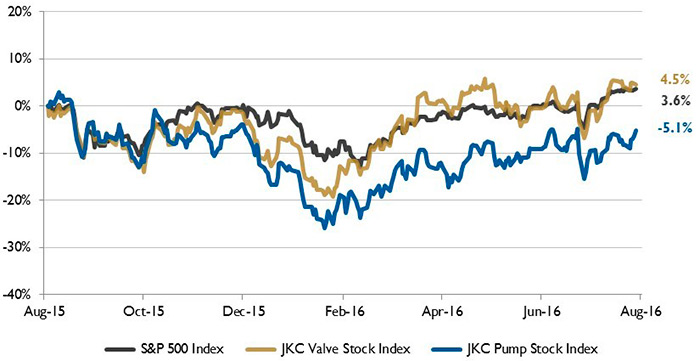 Figure 1. Stock indices from Aug. 1, 2015, to July 31, 2016
The Institute for Supply Management's Purchasing Managers' Index (PMI) decreased to 52.6 percent in July from 53.2 percent in June. While the Production Index grew to 55.4 percent, its highest point in 18 months, the Employment Index fell 1.0 percent to below the breakeven point at 49.4 percent. The New Orders Index remained strong at 56.9 percent and Customers' Inventories were unchanged at 51.0 percent. Respondents say
they haven't been impacted by Brexit thus far, but are watching out for any possible threats to their businesses.
The Commerce Department reported that U.S. gross domestic product (GDP) grew 1.2 percent in the second quarter of the year, following a revised growth rate of 0.8 percent in the first quarter. Consumer spending was strong, as solid job and income growth, along with lower energy prices, benefited consumers. Real personal consumption grew 4.2 percent, and durable goods spending rose at an 8.4 percent annual rate. Business investment was weak, as spending on structures decreased at a 7.9 percent pace. Capital equipment spending fell at a 3.5 percent pace and has fallen for three consecutive quarters.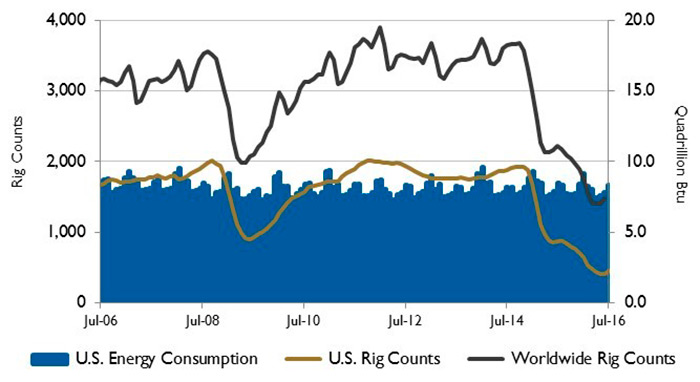 Figure 2. U.S. energy consumption and rig counts
The U.S. economy added 255,000 jobs in July and almost 1.3 million jobs so far this year. Business services led the increase with 70,000 new positions. Health care, financial services and hospitality also gained jobs. Employment in construction and manufacturing was flat for the month.
The U.S. Energy Information Administration reported that employment in the production of oil and natural gas declined 26 percent in May from a high of 538,000 jobs in October 2014, just prior to the beginning of declining oil prices. Specific production jobs include exploration, excavation, well surveying, casing work, well construction, well operations and maintenance. Despite the fact that total oil and natural gas rig counts have declined from almost 1,800 rigs in the fall of 2014 to a weekly low of 404 rigs in May, crude oil production has declined only 2 percent and natural gas production has been flat, compared with October 2014 levels. New oil well production per rig so far this year has been more than double 2013 levels in the Bakken, Eagle Ford and Permian areas.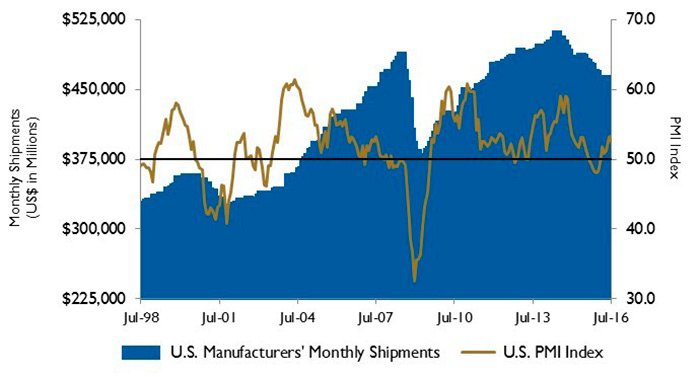 Figure 3. U.S. PMI and manufacturing shipments
On Wall Street for the month of July, the Dow Jones Industrial Average, the S&P 500 Index and the NASDAQ Composite rose 2.8 percent, 3.6 percent and 6.6 percent, respectively. U.S. stocks reached record levels as the markets rebounded from steep losses due to the Brexit vote. The Federal Reserve Bank declined to raise interest rates but pointed out that household spending is growing and the labor market is strengthening. Quarterly earnings for big banks like Goldman Sachs Group, JPMorgan Chase & Co. and Morgan Stanley exceeded economists' estimates.
Reference
1. The S&P Return figures are provided by Capital IQ.
These materials were prepared for informational purposes from sources that are believed to be reliable but which could change without notice. Jordan, Knauff & Company and Pumps & Systems shall not in any way be liable for claims relating to these materials and makes no warranties, express or implied, or representations as to their accuracy or completeness or for errors or omissions contained herein. This information is not intended to be construed as tax, legal or investment advice. These materials do not constitute an offer to buy or sell any financial security or participate in any investment offering or deployment of capital.
Issue