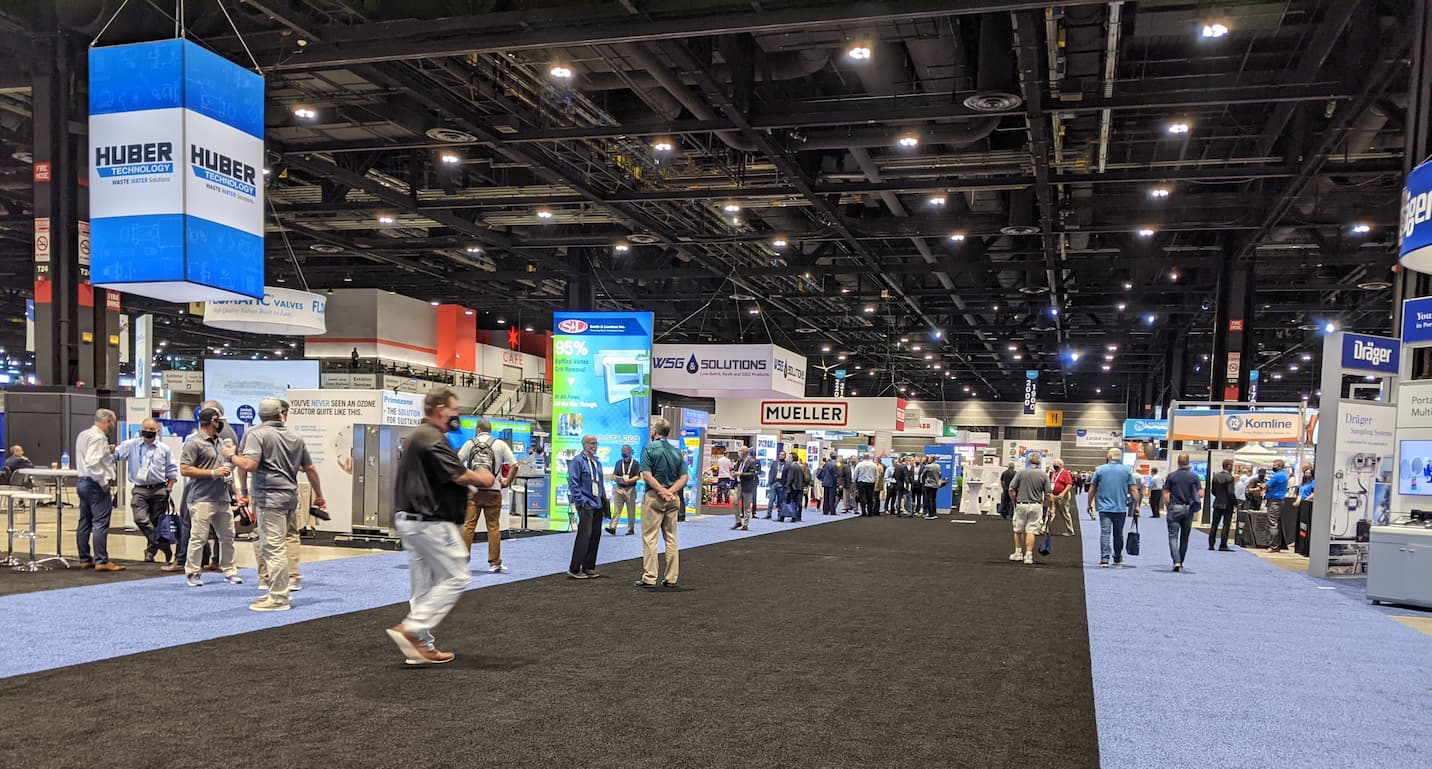 Workforce, infrastructure among key talking points at Chicago event
Water and wastewater professionals were happy to be back together in person, even for an abbreviated version of WEFTEC 2021, 94th Annual Technical Exhibition & Conference, at McCormick Place in Chicago.
There was no WEFTEC in 2020 due to the coronavirus pandemic and there were restrictions this year. Attendees and exhibitors had to be fully vaccinated or provide a negative COVID test within 72 hours of entry. As of Oct. 27, however, WEF organizers announced that fewer than 10 attendees had tested positive for the coronavirus.
"This year's WEFTEC was about half the size of normal, which is usually around 20,000 attendees and 1,000 exhibitors," said Travis Loop, Director of Communications and Outreach for the Water Environment Federation. "We are very happy with this level of turnout given the challenging circumstances and heard tremendous enthusiasm from those at the event."
WEF president Jamie Eichenberger said in a video interview with Pumps & Systems that he had plans back in June for this to be the biggest WEFTEC ever.
"[The] Delta [COVID-19 variant] threw a wrench in the plans a little, but with cases coming down, we've still seen a real excitement and need for that connectivity and getting people back together," Eichenberger said.
We just had a great meeting with the folks over at Blue-White at booth 3442. Thank you for your time! pic.twitter.com/E6XGTKmHkP

— Pumps & Systems Magazine (@PumpsSystemsMag) October 19, 2021
Eichenberger said the water and wastewater industry has been really busy coming out of hopefully the worst of COVID-19, and he has been to smaller conferences recently in Tennessee, Kentucky and the Pacific Northwest.
"It's the only time I've seen everyone everywhere be incredibly busy," Eichenberger said. "We expected to see this COVID slowdown and we just haven't seen it. We invested a lot in infrastructure in this country, but we haven't put that investment back in at the rate that it's needed. We're dealing with growth, ever-tightening regulations and a lot of aging infrastructure that needs to be replaced, and I don't see that slowing anytime soon."
Eichenberger said there is a lot of untapped potential in this workforce, noting that the industry is dominated by older, white males but there are plenty of opportunities for younger people of all backgrounds in the industry. WEFTEC provided a great opportunity to meet some of those people.
"Workforce has a big challenge for us," Eichenberger said. "It continues to be a big challenge. This is a great way for us to get people that are outside of our normal pool of candidates, bring people in and find that next generation of operators, utility engineers and bring them in."
Normally, the north and south halls at McCormick place are filled with exhibitors. That was trimmed down a bit, with some companies electing to opt out this year and others with smaller booths. Only one hall featured exhibitors this year. One exhibitor was Meltric, and Marketing Manager Jim Kenesie said the company was excited for the event.
"In terms for us, one of our main objectives is to get in front of users, so we've talked to several people that have used our product, have installed it and have had very good success. That's really good feedback for my team to get," Kenesie said. "The second thing is that it's a big lead generation event for us. Not current users but people who could potentially use [our products]. We had some really good conversations with folks, and we're pretty happy."
Some talk around the show is that while attendance was down, the show was more about quality over quantity. The people who showed up were more likely to end up as customers. In the case of Meltric, they were showcasing switch-rated devices.
"Most of the conversations and most of the names that we've captured, we feel good about and we feel like there is going to be some nice opportunities there," Kenesie said.
WEFTEC 2022 is set for Oct. 8-12 at the Ernest N. Morial Convention Center in New Orleans, Louisiana, with the exhibition hall open Oct. 10-12.