The Claude 'Bud' Lewis Carlsbad Desalination Plant in Southern California uses reverse osmosis to produce more than 50 million gallons of drinking water daily.
As a board member for the International Desalination Association (IDA) and the American Membrane Technology Association, Doug Eisberg likes to clear the air—or water—when talking about desalination technologies. "I think with desalination trends in general, it's important to note when I speak to people about desalination, 'What is desalination?' Because it's really commonly misunderstood," said Eisberg, who serves as director of business development for Avista Technologies Inc., a Southern California-based company that specializes in water treatment chemicals and support for membrane systems.
"The term desalination, it's removing dissolved salts, so there's desalination to remove salt from water. Most people think of seawater like sodium chloride … but there's a lot of other salts out there," Eisberg told Pumps & Systems. "They change the purity of water, so typically when you desalinate, you're trying to remove something called a dissolved solid from water you're desalting."
Although desalination technology is commonly used with seawater, brackish water—a mix of saltwater and freshwater—and wastewater, there are numerous applications besides drinking-water production. "It's not just in municipal drinking water but in everything else we use or touch every day," Eisberg said. "In the food and dairy industry, desalination is used to make everything from baby food to Ensure, so if you're a baby or a senior, you're using a product" made with desalination technology.
The smartphones and tablets that have become a mainstay of modern-day life represent a prime example of how desalination works in other industries, Eisberg added. "That technology was made available because desalination was used to remove the impurities from the water that cools microchips. When the industry went to desalinated water, that's what allowed chips to get smaller and smaller," he said, also pointing to the beverage, mining and power generation industries that use the technology.
"From the moment you get up with the alarm clock that uses a chip from desalination to your toothpaste made from desalinated water to taking a shower using water that comes from a membrane desalination process … it's impressive how much the technology touches our lives every day—and people aren't aware of it," Eiseberg said.
From a drinking-water standpoint, perhaps no other place showcases what desalination technology is capable of doing in the U.S. than in Southern California at the new Claude "Bud" Lewis Carlsbad Desalination Plant. "What the important thing about Carlsbad is … it's really state-of-the-art for seawater desalination," Eisberg said.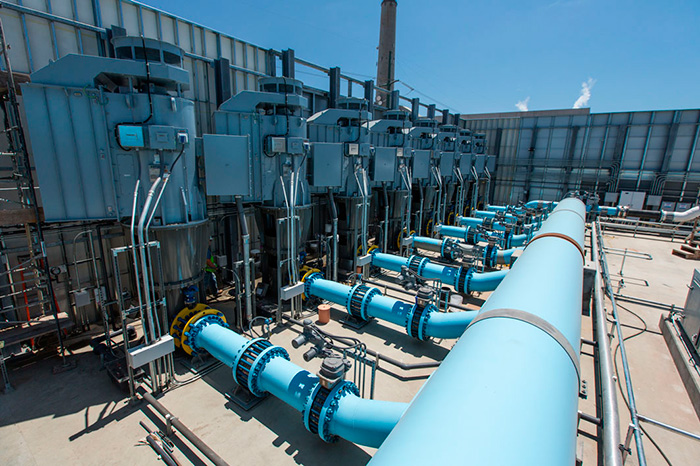 Image 1. At the Claude "Bud" Lewis Carlsbad Desalination Plant, the product water pump station's eight FlowServe multistage vertical turbine pumps lift 54 million gallons per day of quality drinking water about 1,200 feet in elevation through 10 miles of 54-inch diameter pipe from Carlsbad to San Marcos, California. (Images and graphics courtesy of Poseidon Water)
Carlsbad Makes a Splash
Named in honor of the late mayor of the beachside community nestled between the Los Angeles and San Diego areas, the Carlsbad Desalination Plant received its formal dedication as the largest seawater desalination facility in the Western Hemisphere during a ceremony Dec. 14, 2015. At the time of the dedication, the facility had already produced more than 1.5 billion gallons of water for San Diego County.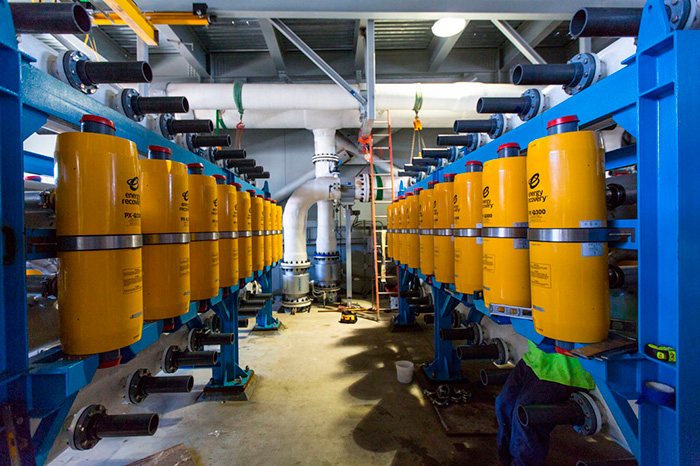 Image 2. The Carlsbad Desalination Facility uses 144 energy recovery devices that recycle the pressure from the reverse-osmosis process and save an estimated 146 million kilowatt-hours of energy annually, according to the plant's operators.
The reverse osmosis facility produces about 50 million gallons of drinking water daily for the region. On a typical day, the plant uses about 100 million gallons of seawater from the Pacific Ocean drawn into the pump station through a 72-inch feed pipe, according to the facility. With about half the water converted for drinking purposes, the other half—carrying original salts and minerals—is returned to the ocean.
"It's a gold-plated plant," said Reese Tisdale, president of Bluefield Research, a Boston, Massachusetts-based firm that focuses on strategic water analysis. "It's the newest and best technology out there. … At least in the U.S., it sets a new price point and operating benchmark for desalination."
The project that started in 1998 resulted from a 30-year water purchase agreement between the plant's owner and developer, Boston-based Poseidon Water, and the San Diego County Water Authority for the production of up to 56,000 acre-feet of water annually, according to the firms. The production addresses ongoing drought concerns in the area and meets about 7 to 10 percent of the region's water demand.
According to the San Diego County Water Authority, the $1 billion Carlsbad project includes the most technologically advanced desalination plant in the U.S., a 10-mile pipeline connecting to the agency's regional distribution system and other infrastructure improvements. The desalination plant, which cost about $537 million, is located on 6 acres adjacent to NRG Energy's Encina Power Station.
Kiewit Infrastructure West and J.F. Shea Construction Inc. designed and built the plant and pipeline, according to the water authority agency. Israel-based IDE Technologies, a global leader in desalination technology, engineered the plant's desalination process and operates the facility.
Energy Challenges
Reverse osmosis and thermal are the world's two leading desalination technologies. Multistage flash and multi-effect distillation—both thermal desalination methods—remain popular among the top 20 largest desalination facilities on the planet, but reverse osmosis use is more prevalent overall in the industry. A 2012 report by the Energy Technology Systems Analysis Programme and the International Renewable Energy Agency noted that reverse osmosis accounts for 60 percent of global capacity for desalination, while multistage flash totals about 27 percent.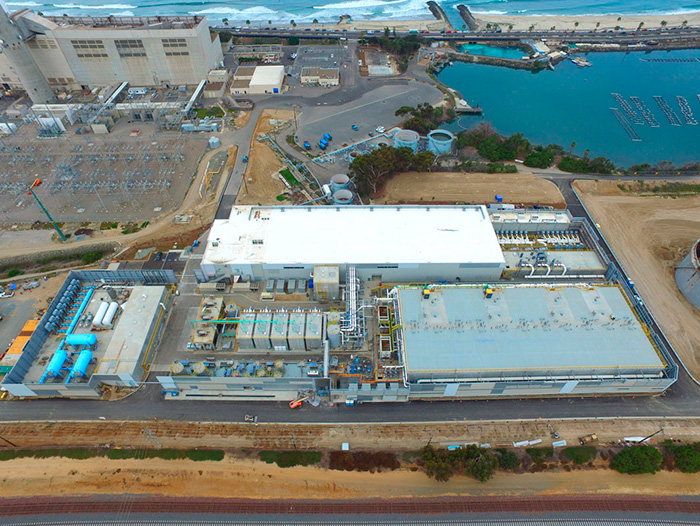 Image 3. An aerial view of the Claude "Bud" Lewis Carlsbad Desalination Plant shows the facility that produces more than 50 million gallons of drinking water a day for the San Diego County area in Southern California.
A challenge with desalination is the required energy in the process, which can require high pressure of 1,100 or more pounds per square inch. Thermal technology can be "extremely energy intensive," Eisberg said. In countries like Saudi Arabia and the United Arab Emirates, he said, "they put a lot of these big desalination plants … next to a power plant or next to oil production where energy cost is extremely low."
According to a May 2015 report from Public Radio International, desalination plants globally consume more than 200 million kilowatt-hours each day, while energy usage accounts for an estimated 55 percent of plants' total operation and maintenance costs. "It takes most reverse osmosis plants about 3 to 10 kilowatt-hours (kWh) of energy to produce 1 cubic meter of freshwater from seawater. Traditional drinking water treatment plants typically use well under 1 kWh per cubic meter," according to the report.
At the Carlsbad facility, developers have targeted the challenge of energy consumption. "There are a lot of very unique technologies we've been able to implement there," Ziv Shor, IDE Technologies' director of engineering, procurement and construction (EPC) projects, told Pumps & Systems.
According to information provided by Poseidon Water and the county's water authority, the Carlsbad facility uses 144 energy recovery devices "that recycle the pressure from the reverse osmosis process" and save an estimated 146 million kWh of energy annually. "The energy recovery devices capture the hydraulic energy created by the high-pressure reject stream of seawater produced during the reverse osmosis processes and transfer it into incoming seawater without consuming any electrical power themselves," according to Poseidon and the water authority.
The effect is the reduction of the reverse osmosis process' overall energy consumption by 46 percent. Additionally, the plant is able to reduce carbon emissions by 42,000 metric tons annually—about the same as the annual greenhouse gas emissions from 9,000 passenger vehicles, according to Poseidon and the water authority.
The technology at Carlsbad is a highlight of the desalination industry in the U.S., according to observers. "The important part of Carlsbad is the technology of these reverse osmosis membranes has been improved over the last 10 or 15 years," Eisberg said. "There's been a lot of incredible improvements that's reduced the energy consumption of these plants."
Ongoing Trends
When asked how Carlsbad differs from IDE's hundreds of other desalination plants in 40-plus countries, Shor said, "The first one was the regulatory aspect. There were strict requirements for building a plant in California." The San Diego County Water Authority notes the project's environmental compliance was upheld through 14 legal challenges.
Among other unique aspects of the facility: "It's also a plant that has been built on a very, very small footprint," Shor said. "A lot of engineering work went into making sure that all the components would fit in a very small area we had."
The Carlsbad plant reflects some of the trends Shor has observed in desalination technology around the world. "I think we're seeing three main trends," Shor said.
"The first one is going modular. The goal is first of all to minimize on-site costs and construction schedule and also being able to reach more remote locations around the world. There's a big push toward modular design and execution," he said
Another trend involves what Shor called "municipal mega-projects." "I think there's an increasing demand for water and we're seeing, especially from the municipal markets, very large demand," he said.
A third trend involves energy conservation at desalination plants. "It's always going to be to lower energy consumption," Shor said. He pointed to the "zero-carbon footprint" at Carlsbad's facility.
Demand for Desal
According to information provided by GWI DesalData and the IDA's Desalination Yearbook, the worldwide total installed capacity as of June 30, 2015, was about 22.9 billion gallons a day, or 86.8 million cubic meters per day (m3/d), in 18,426 plants. The total contracted capacity as of June 2015 was 24.3 billion gallons a day, or 92.3 million m3/d, in 18,612 plants.
The numbers are expected to climb significantly in the coming years. The desalination market value for 2015 totals $12.8 billion, while the estimated market value in 2020 is expected to hit $19.9 billion, according to the two groups. The compounded annual growth rate of the total cumulative contracted capacity from 2000 to 2015 has been 8.1 percent, the groups said.
The Middle East remains a hotbed of large-scale desalination projects. The world's two largest desalination plants reside in Saudi Arabia: Shoaiba 3 that has a capacity of 880,000 m3/d and the Al Jubail (Marafiq) plant with a capacity of 800,000 m3/d, according to IDA. The third largest is the Jebel Ali M Station in the United Arab Emirates that has a capacity of 636,440 m3/d.
Saudi Arabia remains the world's largest producer of desalinated water. The country generates roughly 22 percent of the total desalinated water in the world, according to the government-operated Saline Water Conversion Corporation (SWCC), which operates 28 desalination stations that produce more than 4.6 million m3/d a day. Taking into account private sector companies, the total climbs to 6.6 million cubic meters of desalinated water daily, according to SWCC's website.
In Israel, the country has been able to utilize desalination technology as a main source of its water supply, Shor said. "We've been able to reach water independence through desalination," said Shor, who is not surprised by the global demand for desalination technology. "First of all, it's the largest reservoir we have," he said about seawater. "That's, I think, the importance of desalination—you have seawater almost everywhere."
On the Horizon
Bluefield Research's president has observed a rise in reverse osmosis technology at desalination plants globally. "Over the past five to 10 years, we are seeing a shift from thermal to reverse osmosis," Tisdale said. "That's really because membrane prices have come down, and just the overall cost structure has improved along with the energy efficiency."
The use of technologies to improve energy efficiency, such as energy recovery devices manufactured by Energy Recovery Inc. used in the Carlsbad facility, has made desalination more cost-effective, Tisdale said. "They recover the energy in the process and bring it back into the system. It improved large-scale reverse osmosis system prices significantly," he said.
"The operating cost has become more efficient. Part of that has to do with the membrane. You're forcing the saline water through the membrane. Energy cost is 50 percent of the operating cost of the plant, if not more. The membranes have improved and their ability to allow water through while capturing the salt—the efficiency has improved, and the costs have come down," Tisdale said.
Bluefield Research noted another plant that Poseidon is developing in Southern California that will be similar to Carlsbad. Poseidon expects the Huntington Beach desalination plant to be operational by 2019 and to match the Carlsbad facility's output by providing Orange County with 50 million gallons of drinking water daily from the Pacific Ocean. "The Carlsbad plant does set the new benchmark in the U.S.," Tisdale said. "It's interesting to see how the public responds. There's already pushback from the environmentalists for valid reasons."
While desalination with seawater remains an option for boosting water supplies for communities, wastewater reuse is another source under consideration in some areas. "The U.S. is a tough market for large-scale desalination without a doubt," Tisdale said. "The cost is obviously an issue. I think what's also happening more recently is it's an opportunity for the reverse osmosis companies, but there is an increasing interest in wastewater reuse for potable and indirect potable water. If that's viable, it's lower cost and maybe more—oddly put—palatable."
Eisberg said desalination will continue to play an increasingly important role in global drinking water production. "I think what we can see is as water sources are compromised and we understand what's in the water and how we need to treat it and what would be best for the population, whether for municipal drinking water or what goes into the things we use, I think you can say that desalination technology … will continue to grow to help meet the needs for drinking water for the U.S. and also for the world," he said.
The flow of water through the Carlsbad Desalination Plant
The Claude "Bud" Lewis Carlsbad Desalination Plant uses reverse osmosis to draw about 100 million gallons of seawater from the Pacific Ocean each day to produce roughly 50 million gallons of drinking water daily.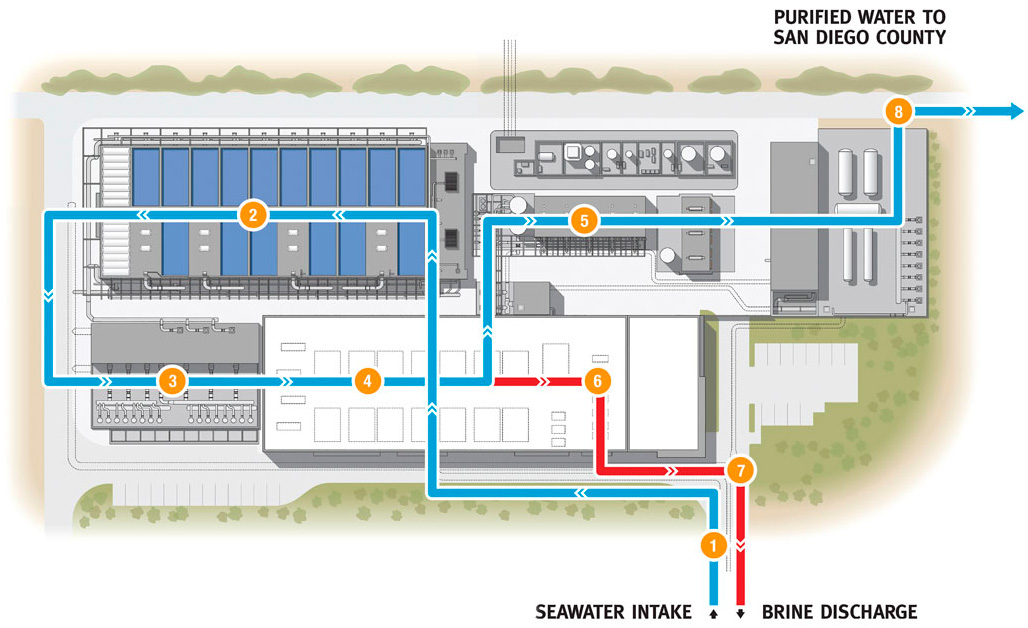 The flow of water through the Carlsbad Desalination Plant. To see a larger version of this map,
click here
. Map & information courtesy of Poseidon Water
1.
When the plant is at full production, the intake pump station lifts approximately 108 million gallons per day (mgd) of raw seawater to the plant through a 72-inch diameter fiberglass pipe.
2.
The seawater passes through flocculators (shown as gray rectangles) where silt and other small solids clump together. The flocculated water passes through 18 media filters (shown as blue rectangles) containing chipped anthracite, sand and gravel. The clumps formed in the flocculators are removed by the filters leaving 108 mgd of clean seawater.
3.
The 108 mgd of clean seawater is pressurized by two banks of booster pumps to about 100 pounds per square inch (psi) to push the water through thousands of cartridge filters that remove any solids greater than about 20 microns in diameter (about one-fifth the diameter of a human hair).
4.
The 108 mgd of clean seawater is pressurized by three 7,700-horsepower centrifugal pumps and the Energy Recovery System (ERS) to about 1,000 psi. This high pressure seawater is pressed through millions of square feet of spiral-wound reverse-osmosis (RO) membrane and divided into two streams: 54 mgd of low-pressure (20 psi), clean freshwater and 54 mgd of clean, high-pressure (850 psi) brine.
5.
The 54 mgd of freshwater is as clean, if not cleaner, than distilled water. It is so clean that minerals and a few chemicals have to be added back into it for it to be considered drinking water. These additions (rehardening and pH balancing) occur in post-treatment tanks where the water dissolves limestone chips. Without this post treatment, the water would leech minerals from the distribution system piping.
6.
Returning to the high-pressure brine stream in Step 4, the energy contained in the 850 psi brine is recovered and recycled to pressurize a portion of the water coming from Step 3. This ERS reduces plant power consumption by about 17 megawatts.
7.
The now low-pressure 54 mgd of brine gravity flows to a discharge channel and pond where it mixes with hundreds of millions of gallons per day of dilution seawater in order to reduce salinity to normal seawater levels. After it is diluted, it is released to mix back in with the Pacific Ocean.
8.
The 54 mgd of quality drinking water, about 10 percent of San Diego County's supply, is disinfected in a large product water tank before being pumped from Carlsbad to San Marcos, California. After it travels about 10 miles and 1,200 feet uphill, it mixes with the rest of the county's imported water before being delivered to the San Diego County Water Authority's member agencies and households.
Issue