M&A activity at a glance; water remains primary target end-use market.
Global Equity Consulting LLC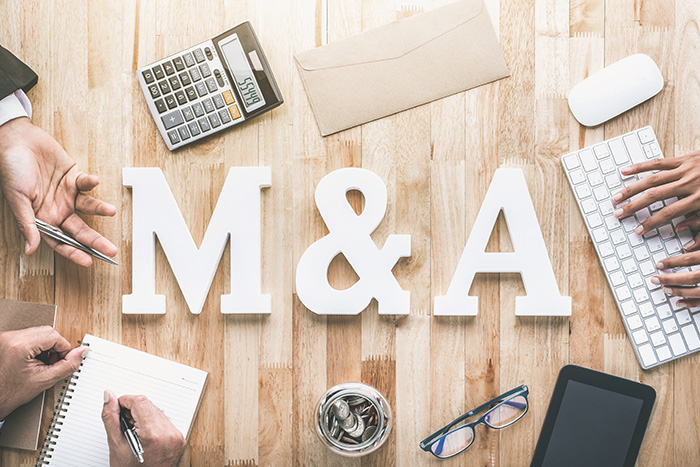 Q1 Activity at a High Level
The mergers and acquisitions (M&A) activity in the fluid handling industry started the year with strong activity by historical standards—up over 17 percent with 17 transactions in the first quarter versus an average of 14.5 Q1 transactions going back to 2011. While it is well below the near-record level of 26 transactions in Q1 during 2018, the first quarter this year had the highest level of deal activity since Q3 2015.
Corporate Portfolio Adjustments & PE Drive Activity
As anticipated, companies are taking advantage of the favorable M&A market conditions to review their portfolios and increase focus on core strategies.

Ingersoll-Rand entered an agreement to acquire Precision Flow Systems from BC Partners Advisors and the Carlyle Group in a transaction valued at $1.45 billion, and then sold their industrial division, including the pending PFS transaction, to Gardner Denver in a transaction valued at $7.7 billion, creating an increased focus as a pure play climate solutions company while Gardner Denver becomes a $6.6 billion (pro forma) revenue flow creation and industrial business.
Weir Group is selling its flow control business, which serves the power and downstream oil and gas markets, to private equity firm First Reserve for $358 million. This will enable Weir to increase focus on the aftermarket dominated end-use markets of mining and upstream oil and gas production.
Dover Corp. divested Finder Pompe to Gruppo Aturia, part of WPiL India and acquired All-Flo Pump Company. Together the moves reduce Dover's exposure to the upstream energy markets while strengthening their air-operated double-diaphragm (AODD ) pump portfolio and expanding its geographic and channel reach.
Thompson Pump & Manufacturing sold their rental assets and related operations to United Rentals in order to invest in and grow its core pump manufacturing operations. Thompson provides pumps for dewatering, sewer bypass, wastewater management and other applications for public works, construction, oil and gas and mining end-use markets.
Colfax Corporation announced they are selling their air and gas handling business to KPS Capital Partners. This transaction follows the sale of the Colfax Fluid Handling business in 2018 and the acquisition of DJO Global (medical technology) in Q1 2019. According to the company, this completes their strategic realignment to diversify end-market exposure, reduce cyclicality and increase profitability. It will also enable Colfax to pursue bolt-on acquisitions in their medical technology and fabrication technology segments.
SPX Flow Inc. has announced a plan to sell their power and energy business consisting of engineered pumps, valves and filtration technology and worth $500 million in annual revenue. The sale will enable SPX Flow to focus on building its process solutions enterprise currently consisting of its food and beverage and industrial segments, as well as their Bran+Luebbe metering pump product line.
Private Equity Continued to be Active
May River Capital, together with Longview Asset Management and Knox Capital Holdings, merged Connecticut-based pump manufacturers Stancor LP and BJM Pumps LLC. The merged companies will be part of May River Capital portfolio company Industrial Flow Solutions. In the first quarter, May River also announced their acquisition of Marion Process Solutions, a manufacturer of industrial mixers and blenders.
Genstar Capital acquired major industrial distributor Ohio Transmission Corporation (OTC) from Irving Capital. OTC serves more than 13,000 customers in a variety of end-use markets including transportation, industrial machinery, metals, chemicals and food and beverage from 38 branch locations. OTC has completed 16 acquisitions since 2010.
Silverfleet Capital portfolio company Pumpenfabrik Wangen GmbH is acquiring the Hygienic Progressing Cavity Pumps (MX range) division of Knoll Maschinenbau GmbH.
Carousel Capital, based in Charlotte, North Carolina, acquired Pelham, Alabama-based Process Barron, a provider of air and material handling equipment from the Sterling Group. Process Barron (formerly Process Equipment) manufacturers and installs process fans and material handling systems for the pulp and paper, power, steel, cement, food and agricultural sectors.
PumpMan Holdings LLC, a provider of pump systems and on-site maintenance and repair services for commercial, industrial and municipal water pump systems, completed its 10th acquisition since becoming a portfolio company of Soundcore Capital Partners in 2016. In April, PumpMan announced the completion of its acquisition of Astoria New York-based ABC Electric Corp., which provides service and repair for electric motors, variable frequency drives and electro-mechanical controls.
XPV Water Partners, a growth equity investor based in Toronto, Canada, and focused on investing in companies related to the treatment and management of the world's water resources, has invested in Holland Pump Company. Holland is a specialty pump rental and dewatering solutions provider in the United States.
Water Remains Primary Target End-Use Market
Over the recent years, water and wastewater have become the primary target end-use market.

Valuations Remain Steady at a High Level
The disclosed transaction values remain steady at a high level despite more uncertainty heading in to 2019 vs. 2018.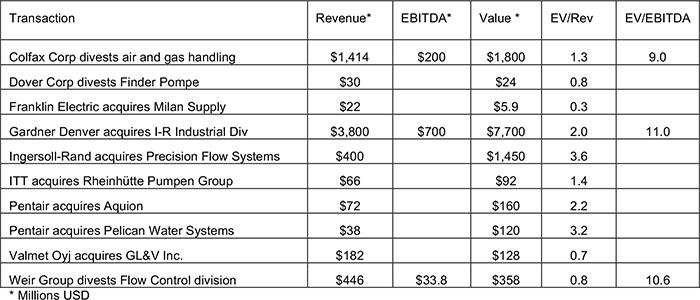 Strong Start for April & Early May
At the midpoint of the second quarter, we are showing 11 announced transactions, which, when combined with the strong level of activity in Q1, indicate a strong first half of deal activity with valuations remaining at a high level.