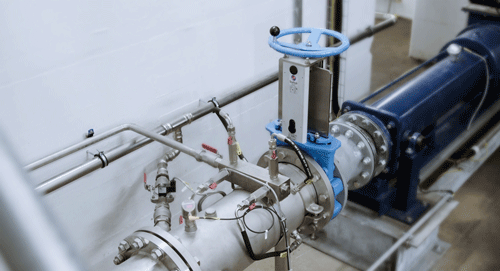 A look at Industry 4.0 in practice, including pump and process control.
The fourth industrial revolution is pushing manufacturing all over the world. Whatever latest buzzword people use to describe it—smart factories, connectivity, digital transformation, industrial internet of things (IIoT), Industry 4.0—there are few manufacturers who are not aware of its existence. Studies show that many firms are now moving on from simply understanding the concept of Industry 4.0 and are actively investing in it to improve their processes and increase productivity. A small number of manufacturing firms are still at the conception phase, while the majority have now reached the evolution stage and are optimizing their current business practices with smart technology. With this in mind, this article outlines some of the forthcoming developments to improve progressive cavity pump performance along with maintenance and process performance.
Pump & Process Control
Pumps are becoming smarter. They have increased integral sensors and connectivity, enabling not only local integration, but also integration into higher control systems via supervisory control and data acquisition (SCADA) or into cloud-based services via data connection. Some system solutions are comprised of a progressive cavity pump with a drive and control software, as well as a set of configurable sensors and optional safety functions. The control system is integrated into the pump, providing both modular automation and enabling vertical integration. The constant real-time feedback compares the data from sensors with parameters determined for the process and automatically adjusts the pump speed as process conditions change. Such self-regulating pumps reduce maintenance requirements and ensure cost efficient system operation.
Condition & Process Monitoring
Plant operators aim to optimize control of their processes and reduce maintenance costs. Knowledge of the pump's operating status is essential to increasing the efficiency of the pump control system and planning maintenance intervals more effectively. Special equipment turns pumps into intelligent field devices, which continuously monitor themselves and the surrounding operating process. Pump monitoring systems observe operational information such as flow rate, temperature and pressure in real time. They record operating conditions and the pump's efficiency. These systems provide users with historic data and trends for performance analysis and process optimization. Deviations from set values trigger alarms, notified by push notifications to mobile devices, reducing standard inspection tours and providing greater safeguards for critical processes. The data analysis enables predicting pump maintenance demands to schedule service intervals accordingly.
Connected Services
Connecting pump monitors and automation equipment that transfers data to cloud-based online services form the basis for Industry 4.0. It provides the information needed to improve equipment and process performance. Users who use connected services benefit from powerful services such as remote monitoring and data analytics of all equipment. The suppliers' cloud services can collect data from the field and make it available to the user at any time and from any location. Certain pump manufacturers developed connected services that compare data received from their pump monitors with the previously defined operational specifications and the pump performance curve to determine deviations from optimal performance. Users can also set warning and alarm thresholds in a multilevel alarm model that automatically informs them of any pump deviations from the target behavior. The notification service makes the operation of, for example, remote pumping stations much easier and reduces personnel costs. The use of application programming interface (API) can also interlink equipment from different suppliers to produce a general process overview and enable whole process optimization.
Predictive Maintenance & Service Digitalization
Data analysis against historical pump trends and specifications enables maintenance to be predictive rather than scheduled. This way, neither operating hours nor the maintenance schedule determine when equipment is replaced but rather the identified wear of specific parts, saving both material and labor costs. When maintenance is due, service apps can streamline the maintenance processes and improve asset management. The use of virtual reality instructions for pump maintenance via mobile devices can be invaluable to service engineers on site. Similarly, quick access to service and instruction manuals, spare parts lists, chat service lines and easy-to-use ordering systems can all increase maintenance efficiency. Sometimes, even QR codes on pumps can identify the pump, generate a spare parts list and an operating manual. Some apps provide the opportunity to quote or order spare parts with a touch of a button or transfer the quote into the customer's enterprise resource planning (ERP) system. Apps of this kind offer on-site digital solutions to provide instant operational information and to simplify the supply chain.
Field Examples
In the food and beverage industry, a smart progressive cavity pump has manifold advantages: for example, linking a pump to the output of automated peelers via ultrasonic smart level controls. As the peelers operate, the pump removes the waste peel, then chops it to reduce the particle size and conveys it to be dewatered and compacted outside the processing area. As well as preserving the integrity of the air within the production facility, this smart solution is cutting labor, waste removal and transport/disposal costs.
In environmental applications, smart progressive cavity pumps efficiently transfer and mix sludge. When fitted directly to silo outlets, customized pumps can back-mix sludge cake with liquid to the required dry solids content needed for energy generation. Integrated controls link the liquid addition and back-mixing silo pumps to ensure optimized mixing. Operating costs are reduced by constantly injecting small amounts of liquid to the pump's outlet. This produces a lubricating boundary layer around the sludge, reducing friction losses and operating pressure. The load on the pump can be reduced and service intervals are extended.
Sensors and software monitor the activity and condition of the pump, and a cloud-based environment offers easy access and control of all recorded data. Experienced manufacturers in this segment have the necessary specialist knowledge and all the important characteristic data of the pumps at their disposal. These monitoring systems advantageously identify the exact condition of the pump in the customer's application from a specific set of sensor data and derived parameters. It is possible to plan and undertake targeted measures even before an expensive technician is deployed on site. The new digital products and services will actively support companies from all industries in reducing downtime and sustainably lowering their operating costs.
Issue