VFDs and sensorless technologies are often the best solution for controlling and protecting a centrifugal pump system against failure.
In a typical plant, pumps often are controlled by semiconductors such as microprocessors, power electronics and variable frequency drives (VFDs) to digitally link assets and provide better process control. By using "smart"
centrifugal pumps with VFD controls, plant operators can vary the pump and impeller speed, allowing the motor output to match the system requirement for improved system performance.
A VFD operates by converting alternating-current (AC) power to direct-current (DC) power, which is then changed back to a pulse width modulated AC waveform in the form of variable frequency and voltage to the induction motor. Feedback from the VFD provides operators with valuable data to determine pump performance.
In essence, VFDs give plant operators control of the pump's speed and output by changing the voltage and frequency to a pump's motor. Modern VFDs can produce accurate and reliable speed and torque feedback using sensorless control algorithms—offering improved pump reliability, extended product life and reduced energy and processing costs.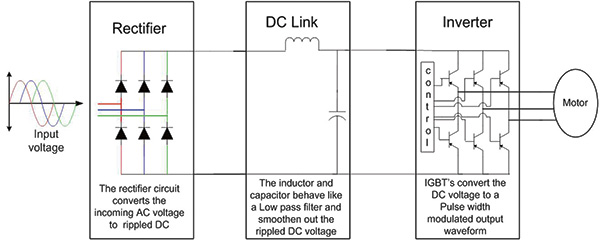 Figure 1. A typical VFD schematic (Courtesy of ITT PRO Services)
Torque Control for Improved Process Management
Most plant managers synchronize the speed or balance the load of their pumps. However, many operators do not realize that the must factor together speed and torque to determine the pump's true operating conditions and to best protect a pump system from failure. If torque control is applied to centrifugal pumps, in most applications, plants will see tighter process control loops, higher control resolution and improved response time. Tighter process control means less energy used and an increase in process efficiency. More specifically, synchronizing torque is an excellent way to control a centrifugal pump with a relatively flat performance curve. Figures 2 and 3 show a
centrifugal pump head curve and its corresponding torque curves.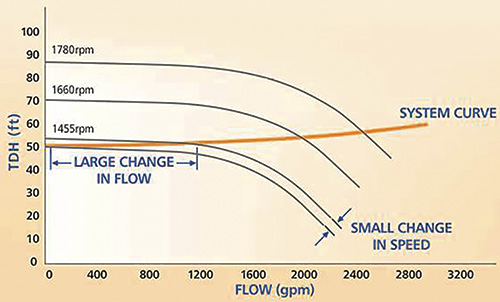 Figure 2. Speed control (Courtesy of ITT PRO Services)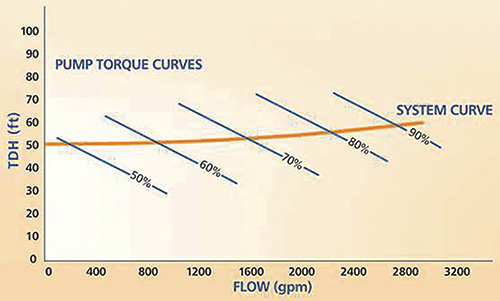 Figure 3. Torque control (Courtesy of ITT PRO Services)
By measuring the torque and speed data that VFDs provide, operations can achieve sensorless flow control. With this information, each pump can be calibrated for optimal performance. Modern VFDs offer advanced methods of torque control for more accurate pump flow management through the induction motor.
Figure 4 is an example of how torque control can be used for a parallel multi-pump system. To achieve a combined flow rate of 1,500 gallons per minute (gpm), each pump shaft must be synchronized for a torque output. This output is related to the pump's flow rate. In this example, one pump has wear of 5 percent and must, therefore, run at a faster speed. However, the torque output remains balanced between the two pumps. The logic that controls the VFD's output uses the torque accuracy to control the pump's output in flow rate.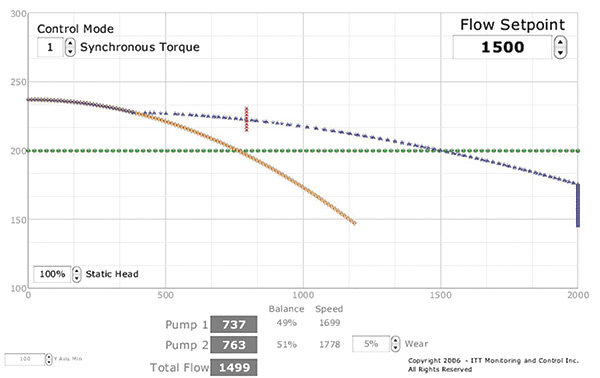 Figure 4. Torque control for a multi-pump system (Courtesy of ITT PRO Services)
Case Study: Salt Mining
Incorporating sensorless flow control into a pumping system helps the pumps achieve a better flow accuracy without external instrumentation. In many applications, sensorless devices use pump performance data from the VFD to match a pump's flow with its associated power curve, which leads to improved reliability and productivity. To better emphasize the importance of this technology, an example of how one mining operation used sensorless flow technology to its advantage is detailed in this section.
A global producer of salt had sized and designed its water injection pumps for the maximum flow and head at peak production. However, the system curve did not match the original pump designs and fluctuated depending on the back pressure of the system. Since the pumps were designed to meet the requirements of a different system curve, they varied widely in performance. Changing well pressures forced the pumps to operate off their best efficiency points (BEPs), causing runout conditions. The plant needed to provide a constant system flow and used the sensorless flow algorithms in a smart VFD to improve production and reduce downtime.
In Figure 5, the green system curve is the design operation. The red curve may be typical performance depending on the backpressure, static level, frictional losses and other factors. Despite fluctuation of the system curve, the pumps needed to maintain a constant flow. While a flow meter could have been used, accurate sensorless flow with precise data obtained from the VFD more than met the plant's needs.
Figure 5. The design (green) and typical performance (red) curves of the pump system (Courtesy of Paul Barringer)
By incorporating the sensorless flow control, the pumps maintained operation at or near their BEP, providing lower energy costs and higher reliability. Since the addition of the smart VFD, the pumps have consistently achieved a flow accuracy of plus or minus 3 percent, and the mining operation has significantly increased meantime between failures. Development of smart pump logic for the VFD based on applications similar to this one made these results possible.
Controlling Multi-Pump Systems with VFDs
Systems with two or more pumps must be controlled differently to ensure that the optimum number of pumps operate to satisfy the process parameters and maintain the life and health of the pumps. How are these systems designed and operated by plant personnel?
Benefits of Outfitting Each Pump with a VFD
All too often, operators run each pump in a multi-pump system at all times, increasing the probability that the pumps will run away from the specified curve because of excess energy consumption. To maintain a properly functioning system, each pump should be similar in size, and their output must be monitored based on the real-time application demands.
Most plans have specific process demands; however, variability in processes is always present and, in a multi-pump system, each pump has specific demands as well. By equipping every pump within a multi-pump system with a VFD, plants are able to automate optimal staging and de-staging logic based on the system's unique demand.
Incorporating VFDs in a multi-pump system also ensures that all the pumps are adequately balanced to operate in harmony by using the synchronized speed and/or torque feedback generated by the device. Additionally, VFDs alternate pump operation based on runtime hours, balancing wear or decreasing chances of system failures of one pump over the other.
This information can also be obtained using soft starters or torque meters with speed measurement. However, acquiring this information with a VFD allows the logic to better control a centrifugal pump according to the system requirements. If operators cannot adjust the speed of the pump, their pump control is limited. Not every pump application requires a VFD for successful operation, but for dynamic control logic, VFD use has distinct advantages.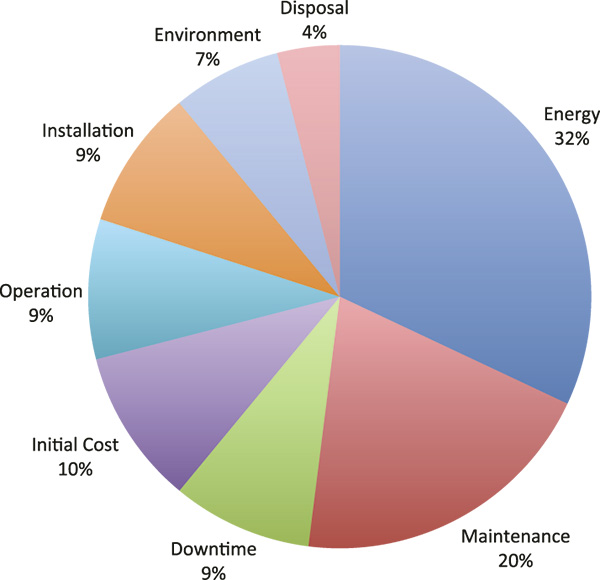 Figure 6. Total cost of pump ownership (Source: Pump costs from a top-10 global chemical manufacturer, FY 2006)
A Turnkey System Helps a Texas Transporter
When operating multi-pump systems, many plant managers contract several different suppliers for each system component (pump, VFD, programmable logic controller, controls, integration). With this method, pump control systems suffer because they are not coordinated, operated and maintained by a trained expert. Increasingly, operations require a more turnkey system for pump monitoring. A single-source provider can offer optimized and coordinated control for a multi-pump system, including the timing of pump operation for better efficiency and balancing the load for maximized reliability. With a turnkey system, no finger pointing occurs when something goes wrong—the pumping equipment, control, logic and testing procedures can be effectively integrated by one team.
One facility planned to source its products from one provider, with the goal of improving total system reliability. This major transporter of hydrocarbons (crude oils) in Texas has storage facilities located along the Houston ship channel and transfers hydrocarbons to areas worldwide. In the past, this company purchased multiple pumps in different sizes from separate providers, making synchronizing the pumping process difficult. After working with a pump manufacturer and its system personnel to troubleshoot this process, the hydrocarbon transporter determined that the manufacturer team's knowledge of the total system was a differentiator.
The hydrocarbon transporter now works closely with the manufacturer as its sole system provider for pumps, VFDs and logic integration. As a result, the transporter has a detailed understanding of the system for existing and future requirements. Each pump is controlled by a VFD, allowing the facility to extract key performance data from its system. By operating its pumps with variable speed, the company has streamlined its operating procedures to increase efficiency and production capabilities no matter the demand.
The Future of VFDs
The adoption of VFD use is growing in industrial plants. What will be next for this equipment?
High-Energy Pump System Optimization
The market has adopted the use of VFDs to control pumps during the past few years, and enhanced designs now offer better logic within microprocessors for integrated intelligence. Today, pump manufacturers are introducing a new level of advanced, engineered pump controllers for high-energy pumps and systems. High-energy pumps (1,000 to 13,000 volts) are typically found in critical applications in which process downtime is even more detrimental to operations.
The latest advances in VFDs offer superior pump performance visibility, alarm and control versus a standard VFD, without requiring special hardware. The ability to view the key process indicators of pump health is valuable for operational and financial reasons.
Lower Costs for the Consumer
Often, the decision to purchase a VFD is made not based on need but on the financial impact it will have on the facility. VFDs are essentially computers that require a cool environment and adequate space to house them. The purchase price of VFDs has decreased recently, and VFD designs have improved in terms of control. Working with a single-source provider can help resolve any cost concerns because most companies can offer package deals at a reduced rate.
Final Thoughts
When evaluating a pump's total cost of ownership, energy and reliability generally are the two main areas that must be monitored to keep costs low. Recent energy and reliability studies prove that VFDs are often the best solution for controlling and protecting a system against failure.
In searching for the ideal controller to fit an application, operators and other end users must expect more from their VFD and its capabilities. The ideal VFD should be customized to fit the specific pumping requirements, with the ability to synchronize torque and speed.
As industry moves toward more intelligent machines, incorporating smarter pump controller-based VFDs and sensorless controls improves flow control, enhances pump protection and promotes greater process efficiency in any operation.
Issue