Columnists Joe Evans and Lev Nelik discuss this commonly misunderstood concept.
For any centrifugal pump user, knowing the answers to the following six questions is key to reliable and efficient pump operation. The answers below are excerpts from a six-part series on centrifugal pump efficiency written by Pumps & Systems columnist Joe Evans.
Watch an update on last year's coverage and what to expect in this year's issue
Pumps & Systems columnist Jim Elsey has more than 40 years of experience in the pump industry.
BIRMINGHAM, Ala (Jan. 5, 2016) - In June 2011, the Department of Energy (DOE) issued a Request for Information that began the process of regulating pump efficiency in the U.S. for the first time. On New Year's Eve, that process culminated in the release of the anticipated final rule.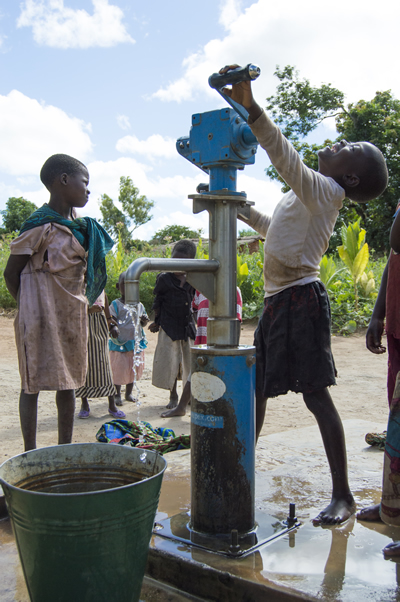 A child in Malawi demonstrates that the LifePump is easy to use regardless of size or strength.
BIRMINGHAM, Ala. (Aug. 4, 2015) - In an effort to reduce greenhouse gas emissions and slow the effects of climate change, the Obama Administration has revealed the Clean Power Plan, the final version of the Environmental Protection Agency's (EPA) regulations on coal-burning power plants.
Supplied by Design Outreach in partnership with World Vision, SEEPEX and private donors, the LifePump is a progressing cavity pump that can reach depths of 325 feet—more than twice that of a typical hand pump.
Pump efficiency is a fundamental concern for every end user. A thorough understanding of the definition of efficiency and what factors affect it can help operators and engineers optimize equipment design and operation.
FORT SMITH, Ark. (Dec. 18, 2014) – In 1967, the Baldor Electric Company headquarters officially moved from the company's birthplace of St. Louis, Missouri, to the historic town of Fort Smith, Arkansas.
ORLANDO, Fla. (Dec. 18, 2014) – The West Halls of the Orange County Convention Center in Orlando, Florida, were packed with people from across the globe, Dec. 9-11, for this year's POWER-GEN International conference and exhibition.
ASTON, Pennsylvania (Sept. 18, 2014) – The Mid-Atlantic Pump & Process Equipment Symposium X was held Sept. 18, in Aston, Pennsylvania. Nearly 300 individuals representing 110 organizations that are customers of Geiger Pump and Equipment attended the single-day symposium.