International politics, the skills gap, IIoT adoption and more are top of mind.
The Pumps & Systems editorial team reached out to dozens of industry leaders to prepare for the 2019 Pumps & Systems State of the Industry issue. Company executives, end users and trade group administrators. Early on, the theme became clear.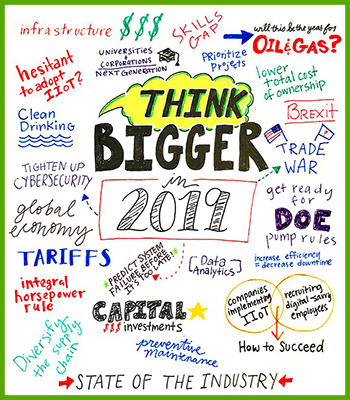 See more of our State of the Industry 2019 coverage.
Think bigger.
Whether your team takes to white boards (like we did for our cover) or attends elaborate management planning getaways, 2019 is a year to consider the options, find the best people you can and embrace the inevitable wave of change.
Continuing stock market unpredictability, a shifting global political landscape, changing regulations and disrupted supply chains are keeping some industry leaders up at night.
Our editors enjoy talking to the pump insiders for each January issue. The insights help frame topics for the coming year and beyond. The Pumps & Systems team will keep an eye on the geopolitical, workforce and technological issues we discuss in this issue, and we will "think bigger" in 2019— right along with the rest of the industry.
Editor's note: Click on the orange company names below to read more from that company's representatives.
How has the current political climate affected your industry?
"Increased budgets for infrastructure improvement is a promising sign for the wastewater industry as a whole. We are excited to see that the government recognized the issues in budgetary constraints that many of our municipal customers face and hope that the increases will allow ... improvements to wastewater collection and treatment plants in 2019."
Jacqueline Boudreau
Director, Product Marketing, Crane Pumps and Systems
"Business has been very good this year, with every major industry showing positive growth. We continue to experience challenges with tariff-related price increases and general inflation, but most end customers understand that these are costs which distributors cannot control and must be passed along. While not the norm, some manufacturers are being stretched a bit with capacity, service levels and production issues. Beyond that, we are cautiously optimistic and well-positioned for the future."
Randy Breaux
President, Motion Industries
How are global politics & the steel tariffs affecting the industry?
"There is a cost impact with some of the raw materials and all the tariffs attached to those materials. We do see the impact in the U.S. Being a global company, we do have factories in different regions. We can move around and get products from India instead of China and France instead of Asia. If you rely on China at this particular moment, then I can expect that our counterparts are probably suffering and that will be transferred to the end users."
Carlos Uribe
General Manager of Water & General Industry, Milton Roy
"Tariffs will significantly impact the pump industry as steel and aluminum are key components within the industry ... Production costs certainly will increase, and manufacturers will have difficult choices to make."
Gennaro A. D'Alterio
Vice President, Product Management, CECO
What is your company doing to address the skills gap?
"Not a day goes by without some form of training, whether it's face to face, lunch and learn or online webinar. There is no doubt that technology is will play an increasing role in the development and management of our Knowledge Management strategy."
Jonathan Hamp-Adams
President, Grundfos USA
"With the evolution of social media and advancements in data-sharing, we continue to create training modules for a variety of learning environments. For example, we utilize tools like augmented and virtual reality to provide a multidimensional view into product construction and how the equipment functions within an operating system."
Mike Licastro
Manager, Training & Education, Commercial Buildings/HVAC, Xylem - Bell & Gossett
Is your company trying to attract young employees? To hold on to retirement-age employees?
"Our talent platform is designed to meet the needs of our employees at every stage of a career. Additional learning platforms are offered to the advantage of all employees as they develop across their career lifecycle. We encourage job rotations, mentoring and shared learning projects in order to actively re-recruit our talent throughout their tenure with us."
Keith Weiss
Senior Vice President, Industrial Sales, USA and Canada, SKF
What are you most optimistic about for 2019?
"There is a tremendous amount of pent-up demand after the long period of stagnation we have experienced over the recent past. Add to this the cooperation from the U.S. federal government to spur economic activity—as seen with tax policies, such as the 100 percent deductibility of capital expenditures in a given fiscal period, as an example. ... Demand is on the upswing, which requires supply to follow. It's really a simple equation. I am optimistic we will see growth in every sector."
Gino Mersino
President, CEO, Mersino
"The chemical and petrochemical market. The U.S. needs to become less dependent on foreign sources."
Mike Lassas
Vice President of Administration, Proco Products, Inc.
How has the Integral Horsepower Rule affected the industry?
"Compliance with the rule will require products to be designed with more material content in most cases and this will have an impact on cost and price. ...The more that South America and Africa catch up to North America for motor efficiency standards, the better. New rules for efficiency in applications will progressively force the use of variable speed in many industry segments, in particular for pumps."
Henk van Duijnhoven
CEO, Nidec Motor Corporation
What are the biggest benefits to those embracing IIoT?
"Municipalities are looking for value, and digital technologies like IoT, cloud computing, augmented reality, analytics and artificial technologies are giving utilities awareness and control over their operations and insights into detecting problems early. Utilities are using this to solve their issues of aging infrastructure and workforce, rising operational costs and water quality and security."
Hassan Ali
Chief Technology Officer, Mueller Water Products
"The benefits of improved equipment reliability are a far more efficient utilization of the maintenance process. ... It will be like comparing today's manufactured, and highly sensored, automobiles to a car 15 to 20 years old. Cars of today build in systems that speak to you, alert you when not in the proper lane, and tell you when your tire pressure is low—just to name a few. Pumps are operated for the most part without proper system management."
George Harris
President, Hydro, Inc.
Do you expect the oil & gas market to continue to grow in 2019?
"The market has shown continued improvement over the last two years, but many believe that now is not the time to be greedy—in terms of daily output, or in terms of geographical competition. While the industry may never again see $100-plus prices per barrel, it is safe to say that we have a "good problem" on our hands, in terms of managing over- production, to ensure that it does not deteriorate market prices."
Axel Bokiba
Vice President of Product Management & Business Line Director, Pulsafeeder
"The oil and gas market is expected to continue growing in 2019, based on our market models and industry expertise. We should anticipate 3 percent of growth in the equivalent market and 7 percent growth in the actual and forecast."
Paul Limpitlaw
Director of Process Instrumentation in Oil & Gas, Siemens
How have (& will) advancements in IIoT affected your business?
"As technologies mature and move closer to the edge (enabling on-site analysis for even the most remote assets) or to the cloud (enabling real-time analysis of numerous assets, across a large geography), and as end user adoption rates for IIoT-based monitoring technologies increase, we will need to apply our expertise to offer more customized solutions tailored to maximize the return on investment (ROI) for each customer. (Services will shift) the insight paradigm from 'When will it fail?' to 'What should I do today to extend the life of my assets?'"
Mike Wilder
Marketing Manager, Digital Solutions, John Crane
"There is no room for failure in many cases. ... I believe the widespread adoption of an IIoT is possible in the next five to 10 years if the system deployed can clearly demonstrate it will increase safety, improve operation efficiency and reduce downtime."
Manish Verma
Senior Sales Application Engineer, TMEIC
What IIoT app will upend the industry next?
"Think about one machine that can be connected remotely but with enough intelligence [and] predictive maintenance by itself [that] the machine knows when they have to order the spare parts. Think about the machine sending a product order directly to suppliers. The industry is not prepared, but it is something that will come. The technology is there, but it's a question of implementation and making it happen."
Gonzalo Buelta O'Donnell
Vice President, OEM Sales, Schneider Electric
"Because so many pump installations are in remote locations with little local monitoring or maintenance (unlike plant floor applications), there is a great need for remote monitoring of system applications. The technology of built-in applications such as web servers and [the] cloud are finding their way into various electrical solutions such as [variable frequency drives] VFDs and [programmable logic controllers] PLCs, giving pump users the ability to remotely monitor applications and take necessary actions."
Jack Creamer
Market Segment Manager, Schneider Electric
What equipment/processes are most vulnerable to cybercrimes?
"Historically, on-premise servers seem to be the most vulnerable. Cloud-based data is often more protected than private servers. According to the The New York Times, "'Cloud' data is stored on hard drives (much the way data is usually stored). And yes, it's probably more secure than conventionally stored data." While data being looted and personal information becoming endangered has been much- discussed, "most of those attacks hit traditional servers, though. None of the most catastrophic hacks have been on the big public clouds," the article stated. However, vigilance is required."
Kevin Clark
Vice President, Fluke Accelix
What keeps you up at night?
"The thought of a potential trade war worldwide combined with a downturn in business is a concern. As we know, no one wins in a total trade war. Both sides seem to sink their heels in and ultimately everyone gets hurt. ...There is always the threat that there will be a downturn at the same time as a trade war. While this is not the case, it is something that keeps me up and makes me think: what if?"
Glenn Wieczorek
Managing Director, North America, Tsurumi Pump
"At this point, we have a controversial president, to say the least, and I actually think in some ways that he's doing some good things. I saw an article about the tariffs and China and there may be some good things. ... We have some forces that are making trade more complicated and painting America in bad light. International trade could be disrupted by the impediments and damaged relationships."
Trey Walters
President and Founder, Applied Flow Technology
"Lead pipes. Aging water infrastructure. Funding. How this will affect our children and grandchildren. It's rather frightening, but we're optimistic with the number of organizations working on research, education and advocacy to advance the industry."
Meghan Jensen
Vice President Marketing & Communications, The Water Council
What are the biggest challenges facing power generation in 2019?
"The biggest challenges are the changing landscape of power gen options and the impact of regulations on the ability to optimize power generation portfolios. Whether they are large or small organizations, the ability of power generation assets and controls to adapt to market needs will be critical for success."
Brent Ward
Solutions Expert, Voith Digital Ventures, North America
What are professionals doing to control chemical processing costs?
"One area of improvement is looking at process equipment that is inherently more energy efficient due to superior design. As an example: some legacy process pumps require multiple utilities to function including electrical power, air and water. By selecting modern engineered solutions, an end user can realize energy savings across several utility requirements. The resulting ROI can be achieved in a short period of time while also reducing attendant maintenance costs."
Russell Merritt
Marketing Manager, Watson Marlow
How do you expect automation to affect the process industries workforce in the next five years?
"Automation is likely to increase in all industries, including process industries. Within the next five years, automation is likely to supplement humans rather than replace. For example, systems will increasingly be able to suggest how workers should prioritize time spent by pointing to areas in the system that are most likely to cause problems, like motors that are failing or pipes that are leaking."
Jake Wysocki
Product Manager, Software & IoT, Industrial Controls Division, Eaton
What will the new infrastructure bill mean to water/wastewater?
"Most likely we will not see much impact in 2019 due to the long project cycle from start to completion that takes place in water and wastewater. That being said, investment by the federal government— Environmental Protection Agency—for water/wastewater infrastructure projects is very positive. Many municipalities have aging plants, piping networks, pumping stations, outdated control systems and communications that need to be overhauled and updated. Plants are having to meet tighter permit levels, which requires additional process instrumentation and controls."
Alan Vance
Environmental Industry Manager, Endress+Hauser
"We haven't seen any impact from this yet, but we're hopeful that with expanded dollars toward our really aging infrastructure, it will all be positive. ... Globally, it's highly regional. Places like China are putting a lot more effort around environmental issues—getting clean water, getting clean air has become a priority and we expect to continue to see that level of investment as they catch up in their environmental protection regulations."
Greg Guard
President, JWC Environmental
"One of the key components of this bill was that it adds some stability. Rather than questioning from year to year, this guaranteed funds for the next several years. ... Manufacturers, treatment facilities, water plants can count on this for the next several years instead of having to worry if the money they had this year is going to disappear next year."
Adam Stolberg
Executive Director, Submersible Wastewater Pump Association
Hear more from Stolberg in our recent podcast by clicking here.
What kinds of technology are on the horizon for wastewater to fight the "flushable" wipe epidemic?
"Existing technology is evolving withnew pumps from several manufacturers that chop/slice the stringy material found in wipes, or new impeller types using computational fluid dynamics (CFD) in design to eliminate dead zones that could lead to clogging and also improve efficiency. ...Operators are looking for the most reliable and trouble-free pump station."
John Lord
National Sales & Business Development Manager, HOMA Pumps
"Pump operators and consulting engineers must consider total cost of ownership (TCO) in their decision-making process regarding the best technology to handle this challenge, which will continue to increase as more consumer companies market flushable solutions."
Joshua Jensen
Director of Municipal Sales and Marketing-Americas, Weir Specialty Pumps
What is the top trend to look for in 2019 for seals?
"The top trend for seals is improving our technologies to provide practical solutions to plant personnel so that equipment stays up and running. Advancements in seals now provide benefits such as lubrication reliability and true noncontact sealing with air seals. ... Industry experts must work with maintenance and reliability personnel to correctly apply, install and operate these products. Continued training ... is critical."
Chris Wilder
CEO, SEPCO
How will regulations impact 2019?
"We are preparing for a more regulated world in 2020 when the new pump efficiency regulations go into effect. We expect a significant amount of activity and a shift in marketing materials as OEMs prepare. In the clean water market, 2019 will bring a lot of opportunity because of that movement around the utility space."
Michael Michaud
Executive Director, Hydraulic Institute
What else should the end users know about the year ahead?
"The traditional supplier base for the pump industry is becoming highly stressed by the rapid growth in demand for industrial products. Lead times on castings, motors, seals and similar components are increasing significantly. This will cause the pump industry as a whole to become less responsive to emergent needs. Long-term planning will be critical."
Andrew Carver
CEO, Carver Pumps
"2019 is a difficult year to forecast. There are many new factors that can affect short- and middle-term outlooks. These include the new trade agreement between the U.S., Canada, and Mexico, an escalation of trade tension, and the Democrats gaining control of the [U.S. ] House [of Representatives]. All of these can have an impact on the pump industry in 2019 and beyond."
Mark Jones
President, CEO, SEEPEX
"Economists predict the first half of 2019 will be much like 2018 growth in the U.S. However, the prediction is that the second half of 2019 will likely slow and GDP growth for the year will be in the 2.5 percent range. Also, continued Fed tightening may hamper GDP growth. Early 2019 may be an excellent time to deploy IIoT solutions to offset slowing economic growth. "
Todd Loudin
President, Flowrox
"Hardware will get bigger as it gets more powerful. There is a notion that edge computing devices are going to keep getting smaller in a capacity sense due to offloading to clouds. In 2019, these edge gateway devices are actually going to get more powerful and will need to get larger in order to have more capacity to run virtualization or containers to support more apps that will in turn consume more data."
Jason Andersen
Vice President of Business Line Management, Stratus Technologies
Issue