Written by:
Michelle Segrest
Published:
February 10, 2014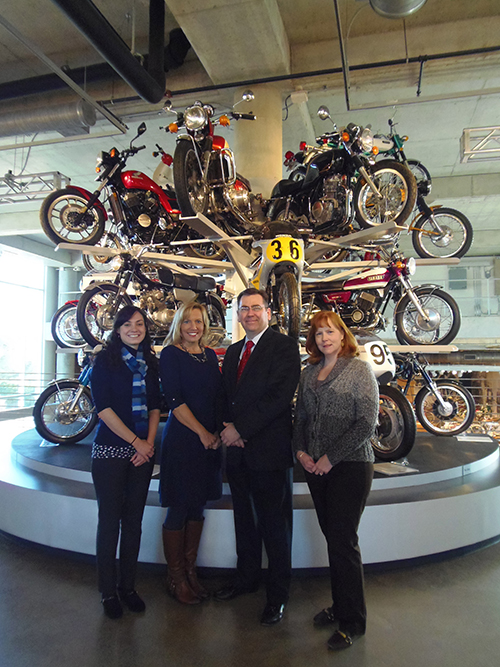 Pumps & Systems
editors Amanda Perry, Michelle Segrest and Lori Ditoro with Motion Industries' Randy Breaux during the EEPP Symposium at Barber Motorsports Museum in Birmingham, Ala.
(Jan. 8, 2014) - Pumps & Systems was proud to be involved in a training opportunity with Motion Industries—the Energy Efficiency & Plant Productivity (EEPP) Symposium. The inaugural event was held in January in Birmingham, Ala. We will partner with Motion Industries to present more symposia in other major U.S. cities throughout 2014.
Our readers consistently tell us how important energy efficiency and plant productivity is to their businesses, and learning more about it continues to be an industry trend. In fact, we do not even consider it a "trend" anymore. Efficiency is on our minds daily. Pumps account for 10 percent of the world's total electricity consumption. Some experts report that two out of every three pumps waste energy. Most pumps waste energy 95 percent of the time.
Electric motors use 45 percent of the total global electricity consumption, according to experts from Baldor, an ABB company and presenter at the EEPP Symposium. Electric motors are the single biggest consumer of electricity, and they generate more than 60 percent of the total industrial power demand, accounting for about two-thirds of industrial power consumption. Only 10 percent of the world's installed motors have a drive, according to Baldor's David Felt. Drives can significantly increase the efficient performance of pumps and the motors that power them.
Improving plant operation efficiency is an achievable goal, but it requires knowledge, research, developing solutions and executing a precise program. We have reported the latest updates on the Integral HP Motor Rule and will update our readers as information becomes available. Industrial facilities can save 2 to 3 percent of their energy consumption simply by moving from a standard motor to a NEMA-premium motor. Meanwhile, the European Union has introduced new legislation regarding pump efficiency that should help reshape the world's energy consumption profile. We reported some of the Hydraulic Institute's reaction to the most recent U.S. Department of Energy updates on pump efficiency regulations in our January, February and March 2014 issues.
Pumps & Systems covers energy efficiency in every issue, and our team attends training opportunities to learn more. We recently participated in an energy efficiency round table with experts from Siemens and plan to partner with the industry's major players in the advancement of efficient pumping systems.
Pumps & Systems has also presented educational webinars. A four-part SWPA Webinar training series on the Systems Approach to Pump Systems Design, Installation, Operation & Maintenance begins March 20. Register here.
Expect training and energy efficiency to continue to be key industry focuses in 2014.