The global water crisis claims 5,500 lives each day—more than war, natural disasters, AIDS or hunger. It is an important global problem but not an impossible one to solve.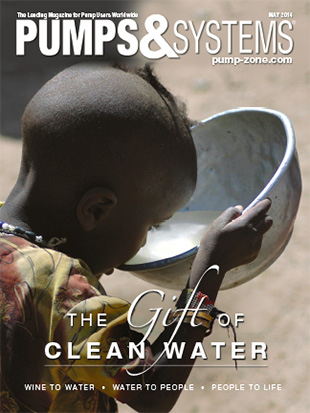 —Doc Hendley was a 30-year-old who woke up one night with a vision that led him to research the life-threatening effects of poor sanitation and bacteria-filled drinking water. The vision turned into his life's mission—to provide clean water access to one person, one family, maybe even a whole village.
During the past 10 years, his passion to help solve the world's water crisis has provided clean water to more than 250,000 people in 17 countries.
He is not stopping there.
There are still 780 million people who do not have access to clean water or proper sanitation. Hendley's nonprofit organization brings clean water to the people who need it.
Some major pump companies are doing their part, too.
Water to People—Give clean water to people, and their lives will change.
Only 10 percent of the world's wastewater gets treated. The rest goes into lakes, rivers and oceans. UN Water estimates that 10 percent of the global disease burden could be reduced with improved water supply, sanitation, hygiene and water resource management.
By merging philanthropic efforts and pump technology with human compassion and involvement, pump companies like Grundfos make a difference. Grundfos involves its employees through programs such as Walk for Water. The company developed strategic partnerships and created technology and programs to enhance the efforts.

People to Life—The gift of clean water brings people to life.
Access to clean water and proper sanitation lowers the risk of disease. It allows women opportunity because they no longer spend their days collecting water. Children can play and go to school.
Time spent collecting water is greater than the combined hours worked in a week by employees at Wal-Mart, United Parcel Service, McDonald's, IBM, Target and Kroger, according to Gary White, cofounder of Water.org.
Xylem Watermark partners with nonprofit organizations to develop clean water solutions, hygiene education and disaster recovery in water-deprived communities.

Pumps & Systems is proud to bring you special coverage "The Gift of Clean Water."
This is just three chapters of a huge global story. It is a story of progress and hope.
See our online coverage for more information and for resources on how you can help.