Written by:
Michelle Segrest
Published:
February 28, 2014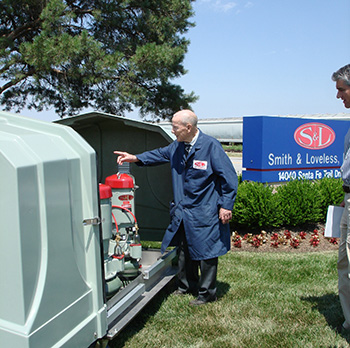 (March 1, 2014) - Frank Weis was a legendary innovator.
He was responsible for the design of more than 40 patented products during his career, which spanned seven decades.His inventions were instrumental in protecting Kansas City during the Great Flood of 1951. In 1956, he developed the water industry's first true solids-handling, non-clog pump for municipal sewer collection and transfer. In 1970, he designed the first-ever above-grade pump lift station. Today, his inventions are used in more than 70 countries.
Perhaps even more impressive was his work ethic and passion. He remained a dedicated, full-time employee of Smith & Loveless for nearly 60 years and contributed to important research and development projects until his death on Sunday, Jan. 19, 2014.
He was 93.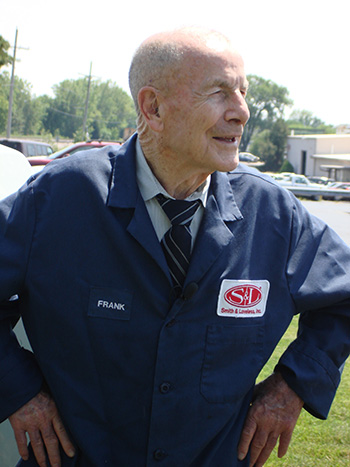 To those who knew him personally, he was a loyal professional and a gentleman. When we published "The History of Pumps" in January 2012, we mentioned some of his innovations. After publication, I received a hand-written letter from him thanking me for including him in the coverage and humbly telling me that his teams of dedicated engineers deserved most of the credit. The letter demonstrated perfect penmanship and explained in great detail how 4,000 horsepower, triple extraction steam turbines driving through the gearbox of a two-stage centrifugal pump operated. He just wanted me to know how they worked. It was important to him that I understand, so he took the time to explain it to me.
His passion was contagious, and his generosity was heart warming.
He would not allow Pumps & Systems to write a full feature on his life and contributions. He didn't want the attention. Instead, he told me, "I feel fortunate to have worked with this equipment and simply wanted to share some details." He signed the letter, "One of your boosters, Frank Weis." It made my day.
Passionate innovators like Frank Weis drive this industry. We often talk about pump companies, their prospects for growth, multi-million dollar contracts and acquisitions that make rich companies richer. But it is people like Frank Weis who truly make our industry prosper by continuously developing new products to improve efficiencies and make technology work harder for us.
Weis is survived by his wife of 69 years, Audrey, three children, six grandchildren and 10 great grandchildren. He will be missed by all who knew him, many who knew of him and millions who benefit daily from his innovations.
Nice comments from a reader:
I was sent your article while I was at the American Water Works Association conference in Boston. Thank you so much for writing this and sharing some of your thoughts on Frank.
I just wanted to share more with someone, so I decided to give you more background. Frank was my first boss when I joined Smith and Loveless in 1983, fresh out of graduate school. I won't go into all the engineering details I learned from just watching him but wanted to share the personal side.
I worked for, with and shared lunch with Frank many days over my next six years of employment. He treated everyone the same, from the janitor to the president of the company. He was friendly to all, had a great sense of humor, enjoyed pulling pranks on select employees, and I never, ever saw him be upset or have a bad day!
We were both alumni of the University of Missouri, and he loved sports, had coached his kids baseball and basketball teams and loved to talk sports of all kinds. He shared his knowledge with any that asked, but he was the most humble guy I have ever known.
He went about his work with a quiet determination and knew exactly what he was trying to achieve, even if it didn't fit with the views of management at the moment! He had an amazing influence on my professional and personal life, and I tell stories related to him almost every week. I left the company in 1989 and moved to Degremont in Virginia, but his influence had more impact on me than anyone I have worked with since that time.
I am now back in Kansas City and was fortunate enough to attend the 50th anniversary of Frank's work at Smith and Loveless in 2004. As was typical for Frank, he didn't want it to be a big deal, so the ceremony was held on the shop floor. Several former employees attended, many who had long since retired!
I knew then how unique Frank was but have understood this even more in the years that have passed. As great a man as he was from the engineering and invention side, he was an even better man overall. The world was a better place for the time he was here and for all the individuals that got to know him.
Andy Mitchell
Director, Business Development
Metawater USA, Inc.