VIL pumps and design envelope technology reduce energy use and cool Toronto's downtown.
The design envelope technology that is the foundation of these integrated pumps allows operators to dial back the pump speed to only 5 psi per pump during the winter months, when demand for cooling is much lower.
This means that the 600-horsepower motors operate at only 70 horsepower, saving the organization a tremendous amount of energy and related costs. In addition, as the load changes throughout the year and as different operators are tasked with managing the mechanical room, staff members spend less time adjusting and rebalancing the system. With established operating parameters documented and stored in the integrated controllers, any required adjustments can be made easily.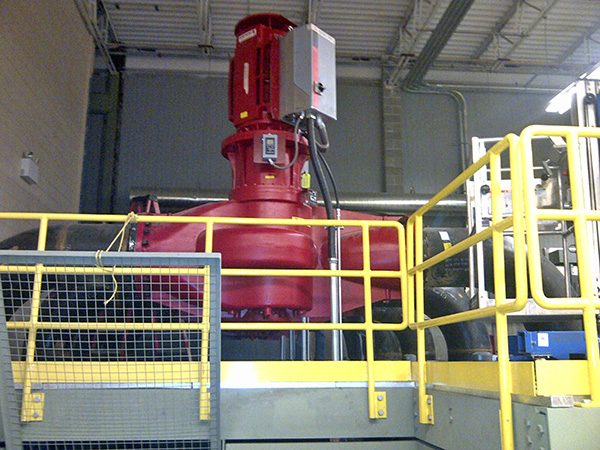 This image shows a design envelope VIL pump with integrated controller. VIL pumps are typically mounted in the piping and do not require a concrete base.
DLWC Benefits
The DLWC system provides a unique, sustainable alternative to conventional air conditioning and has become an example of efficient, renewable cooling around the world.
The system reduces electrical demand by more than 61 megawatts—the equivalent power demand of 6,800 homes. This reduction in demand for electricity has proven very important to the viability of the downtown core, as it relieves the pressure on an over-burdened electrical grid. The DLWC system also offers benefits that make it attractive to building owners.
Because Lake Ontario serves as the source of cooling, DLWC eliminates the need for electrically-powered chillers at customers' buildings. This saves thousands of dollars in capital investments, reduces the floor space required for equipment and reduces maintenance costs.
Some of the other benefits to the city and the environment include:2
Electrical use reduced by 90 percent (compared to in-house chillers)
Electricity demand reduced by 61 megawatts
Electricity consumption reduced 85 million kilowatt hours per year
Reduced the need for ozone-depleting refrigerants (45,000 kilograms)
Reduced annual CO2 emissions by 79,000 tonnes
The DLWC system has been recognized for design innovation and environmental stewardship with several high-profile awards.
In 2006, the organization received the Leonardo da Vinci award for creativity and innovation in business.
In 2011, the current industry association, the International District Energy Association, recognized the installation as the System of the Year for the second time. The organization stated that reliability, operating efficiency, customer satisfaction and community participation were key factors in the decision.
As the DLWC facility continues to serve customers and evolve and expand its customer base, design envelope technology will continue to support its operations. It will enable future expansion with industry-leading solutions.
References
Facilities Linked to the DLWC
Downtown Toronto facilities currently linked to the DLWC system include:
Air Canada Centre
Royal Bank Plaza
Trump Tower
Citibank Place
New City Hall
Old City Hall
Metro Centre
Marriot Residence Inn Hotel
Ritz-Carlton Hotel & Residences
Munich Re Centre
Pages