The pumping operation experienced an 80-percent reduction in energy use.
Founded in 1637, Fiskeby Board AB, a paper mill in Norrköping, Sweden, has been manufacturing paper and board for 375 years. The mill had equipment installed that operated adequately and experienced few pump failures. However, expenses were high, and the mill operators believed that costs could be reduced with an alternative pump control solution. An industrial drive was installed in an attempt to decrease energy consumption and save money.
Pump Control Before the Drive
Before the drive was installed, flow control was achieved by running the pump at full speed against a valve that was nearly closed during most of the pump's operation. This inefficiency wasted energy, similar to driving a car and pushing both the accelerator and the brake at the same time.
After the Drive's Installation
The system's centrifugal pump moves up to 5,000 liters per minute and is operated by a 50-horsepower motor that runs at 1,720 rpm, at 60 hertz. This motor has a power factor rating of 84 percent. With the new drive, the centrifugal pump runs at variable speed depending on the level of the tank that it is feeding. This means it runs slower for much of the time, providing energy savings. The drive was built using an all-compatible drives architecture designed to provide compatibility, flexibility and ease of use.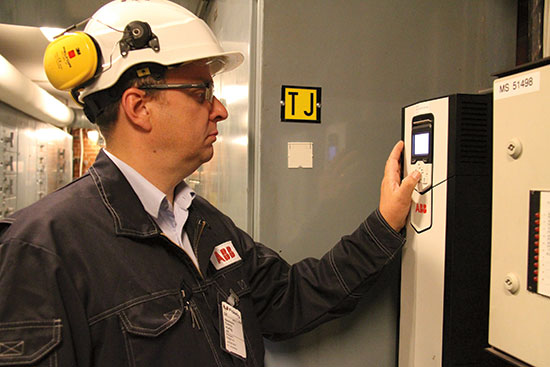 The new drive is wall-mounted, which makes it easier to use and configure for optimal water pump flow.
"The driving force behind this installation was energy savings, meaning cash and environment to be saved," explained Magnus Johanson, energy engineer at Fiskeby Board AB. "It wasn't the failure of the old drive that led us to make this change but a feeling that we could save money and perform better with new technology."
In addition to energy savings, the new drive was easy to install and operate, with almost plug and play simplicity. Reliability and availability have also been excellent.
"The results were so impressive that we have installed the drive on several other pumps, for additional energy savings, said Johanson.
When choosing the drive, the operators at the paper mill wanted to use a manufacturer that they knew and could rely for spare parts and support. The paper mill has about 1,000 drives in operation, so they attempt to use reliable equipment with little variety.
"We expect these controls to have a rather long life cycle and also expect new technology and applications to be forthcoming," said Johanson. "We are confident with our supplier and the new drive is a good example of the benefits we get."
The new drive has saved 80 percent or more of the energy that was previously used by the pump motor.
"Each year," said Johanson, "this amounts to a savings of about 120 megawatts per hour or approximately 50,000 to 60,000 Swedish crowns (6,000 to 7,000 Euros)."
The drive's payback period will be less than two years.