Motor control centers, PLCs and VFDs improve uptime and data management to keep pipeline stocks moving.
The U.S. natural gas industry is an extremely important segment of the nation's economy. In addition to providing one of the cleanest burning fuels available to all other industry segments, it provides much valuable commerce to the U.S. economy. Many experts believe natural gas to be the most important energy source for the future—in the near term because of its low cost relative to other hydrocarbon energy sources, and in the long term because it burns much more cleanly than other hydrocarbon energy sources.
One of the largest producers of natural gas liquids in the U.S. has an enormous infrastructure to manage. It includes more than 61,000 miles of pipeline, 60 plants and 11 fractionating facilities, which divide distillates into a range of hydrocarbon end products. While complex, the goal is simple: Keep feeder stock and processed products moving. Because scores of large electric motors drive these critical flows, the company deployed a new "smart" technology over optical fiber to gather real-time motor operations data to ensure 24/7 uptime.
Plant Recommissioning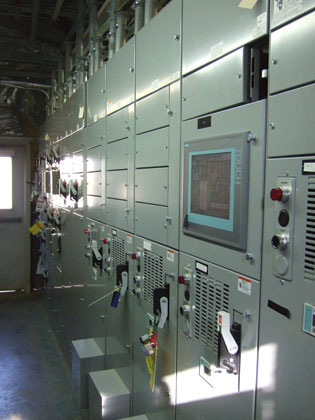 The MCCs, which are manufactured in West Chicago, are tailored to the needs of vertical markets—such as general construction, water and wastewater, oil and gas, and general process industries.
The catalyst to invest in this technology was the need to recommission a vapor recovery unit that had been idle for a year. According to the company's supervisor for its east Texas operations, the facility's motor control center (MCC) needed replacing because it did not comply with updated arc flash regulations imposed during its shutdown.
"We also wanted to take advantage of newer hardware such as variable frequency drives (VFDs) and soft starters that weren't available to us before," the supervisor said. "And since we were completely replacing the entire MCC, we now have the opportunity to integrate the technology with an overall control system whenever we want to."
Limited View
The supervisor oversees the operation of five gas plants and a natural gas gathering system with 12 booster sites that recompress the gas as it flows through the pipelines—up to four million cubic feet per day.
"Previously we had meters on the motors that offered limited operational data, but we just did not have the coordinated real-time visibility into their operating conditions that we wanted for sake of pre-emptive maintenance, diagnostics and so forth," he said.
Smart MCC Solution
The company's engineers began their design phase in December 2009, eventually choosing to deploy a smart MCC with smart start technology. The specialized smart start technology option combined a pre-configured programmable logic controller (PLC) with a human machine interface (HMI) and offered all-in-one control for up to 100 nodes of devices with electronic communication capabilities, including motors. The main workhorse in the vapor recovery unit was a 1,200-horsepower motor.
The reason that the team chose smart MCC option was because the pre-configured PLC would, in effect, provide plug-and-play installation, speeding up commissioning, which occurred in April 2010. The project supervisor figured that it would save considerable time and money in this phase.
"We didn't have to generate, create and develop engineering programming for this MCC to work for us," the supervisor said. "This made my life a lot easier, and we brought up the MCC much faster."
The company's MCC was a back-to-back unit, containing the smart start technology. The front contained a 1,200-amp main circuit breaker, five specialized motor management devices, five soft starters and six variable frequency drives (VFDs). The rear contained seven specialized motor management devices and four VFDs.
The specialized motor management devices monitor operational data to preemptively identify worn components and process inefficiencies.
Information gathered includes voltage, current, power, temperature, operational hours, power factors, number of starts and other conditions. Compared to systems that provide just eight bytes of data, the specialized device provides 244 bytes, about 30 times more data.
The compact soft starters in the system save space, and arranging control cabinet layouts is much easier, with less wiring than traditional systems.
Features include soft start and soft stop plus internal bypass. These soft starters reduce current peaks and help avoid voltage fluctuations during startup. They also lower the load on the power supply network, while lightening the load on the operating mechanisms.
As a high-performance general purpose vector drive, the system's VFDs are designed for demanding variable-speed applications in which dynamic response, torque control and tight speed regulation are required.
Decentralized Intelligence
The project supervisor has not yet tied the MCC with the plant's master control system but said he enjoys knowing that he can when he is ready. At present, its specialized MCC with a smart start PLC and HMI give him and his team complete control and data visibility without integrating with a master control system.
"I'm also able to use my laptop to access the MCC and motor data from anywhere I have an Internet connection," he said.
Also, in the event of network failure, operators can still access data through local control at the unit. With the smart start pre-configured PLC, the supervisor and his operators have immediate and real-time access to all this data through a touch-sensitive graphical user interface.
"We had zero programming costs or development time," he said. "The only thing we had to do was label each motor and assign it a number through the HMI."
Pages