A VFD and a permanent magnet, direct-drive motor replace a gearbox, reduce maintenance costs and provide energy savings.
Significant energy savings
Soft start capability, which reduces overall tower stress and noise
Elimination of costly alignment issues
Removal of high-maintenance mechanical rotating equipment
Improved system reliability
System noise reduction
Decreased yearly maintenance
Decreased vibration levels
Elimination of environmental issues, such as leaking oil
Many problems associated with cooling tower maintenance and reliability are solved with the direct-drive design. The relatively high-speed gear input shaft, which typically runs at 1,750 rpm, is eliminated. The high-torque, direct-drive motor runs at the fan operating speed, which is typically a slower speed, ranging from 147 to 382 rpm. Vibration and noise concerns are minimized. The drive shaft and associated disc couplings have been removed, eliminating problems associated with misalignment, natural frequencies or delaminating of the drive shaft itself. With the right angle gearbox removed, the difficult maintenance associated with changing the oil, proper oil fill levels, oil contamination, oil leaks and gearbox failures are no longer a concern.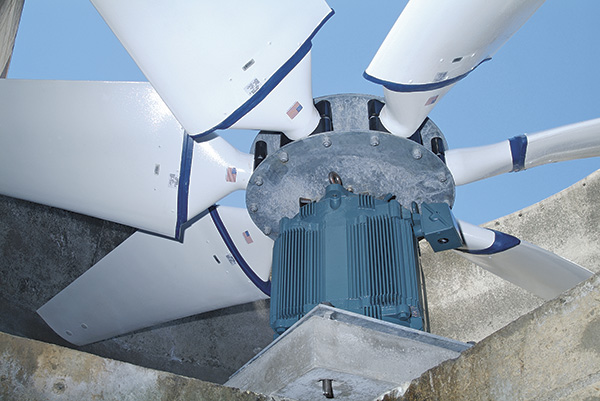 The AC cooling tower direct-drive motor is designed exclusively for the cooling tower industry. The motor combines the technologies of the power-dense, laminated frame motor with high-performance, permanent magnet rotor designs. Combining this motor with a
VFD
results in a system that is quiet, energy efficient and easy to maintain.
Combining advanced PM motor technology with a state-of-the-art finned, laminated frame design allows the construction of a low-speed, high-torque, low-profile motor for use in place of the existing gearbox. By eliminating the gearbox, improved system efficiencies can be realized, maintenance costs can be reduced and system reliability will be improved.
Pages