PARSIPPANY, N.J. (March 20, 2017)—The Hydraulic Institute (HI) awarded the Pump Industry Excellence Awards at the 2017 Annual Conference & Centennial Celebration in Orlando, Florida, on March 10.
These inaugural awards recognized pump end-users, owner/operators, engineering consultants who have excelled in applying new pump technologies, and optimizing pumping systems when executing their mission, according to a statement from HI.
"HI is proud to recognize organizations that achieve their corporate and social goals by improving their pumping systems," HI Executive Director Michael Michaud said. "These four organizations stand out because they push beyond technological boundaries and strive for increasing efficiency. Since pumping systems account for 25% of electricity use in the U.S., we hope that the successes highlighted by these awards will inspire others to become more efficient, improve technology, save energy and ultimately improve the environment."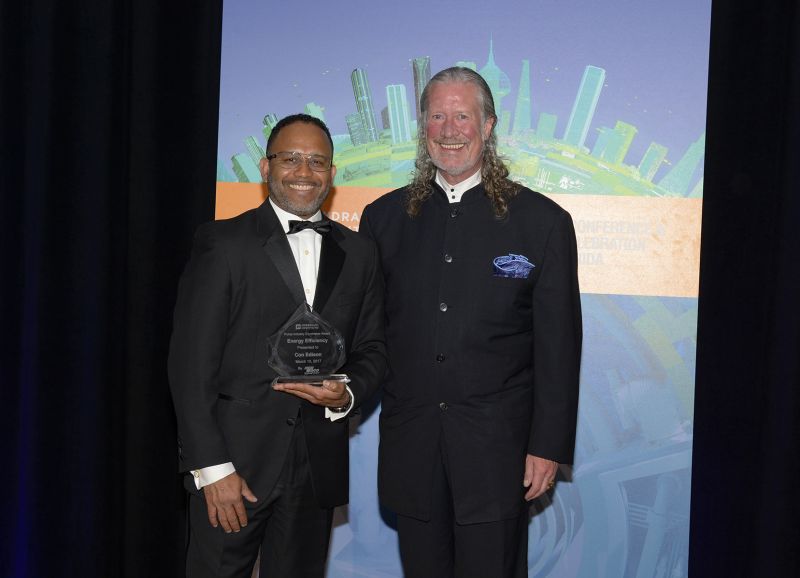 John Constable (left) receives the Energy Efficiency Award on behalf of Con Edison. The award was presented by John H. White Jr., CEO of TACO Comfort Solutions.
(Images courtesy of Hydraulic Institute)
Jennifer To (left) and Nate Cullen (center) receive the Environmental Impact Award on behalf of Clean Water Services and Portland General Electric. The award was presented by Ken Napolitano, president of Xylem Inc. – Applied Water Systems.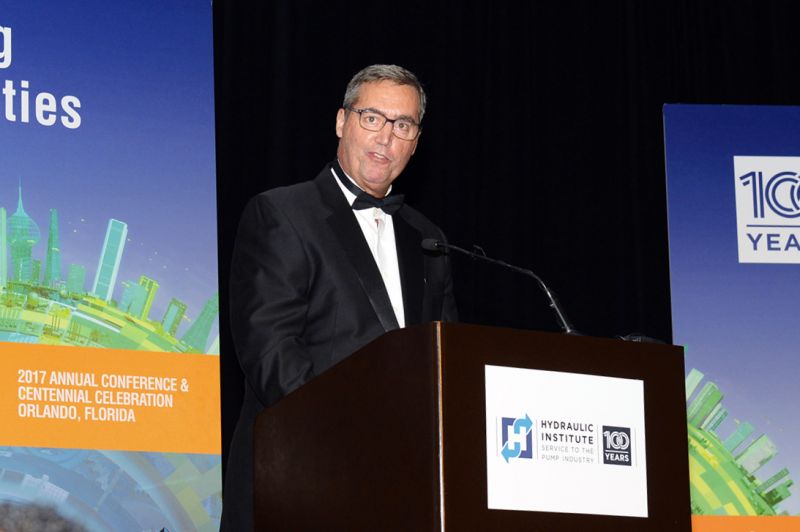 Don Underwood receives the Innovation & Technology Award on behalf of TechnipFMC. The award was presented by Fernando Bermudez, president of Sulzer.
HI said awards were presented in three categories—Energy Efficiency, Environmental Impact, and Innovation & Technology—to four organizations that have demonstrated commitment to advancing pumping solutions and technology while helping to preserve North America's natural resources.
Con Edison of New York received the Energy Efficiency Award for its effort to improve their fluid transfer pumping systems that, in turn, improves the efficiency of not only its steam stations, but also all of the buildings and homes in the utility's service area. The award also reflects Con Edison's commitment to its customers and providing energy-saving solutions, clean power, and more energy-efficient choices to the people they serve. This award was sponsored by TACO Comfort Solutions.
Cleanwater Services and Portland General Electric shared the Environmental Impact Award for their positive impact on the environment by improving water quality through joint energy programs as well as habitat protection utilizing training and comprehensive pump systems solutions. This award was sponsored by Xylem, Inc.
TechnipFMC accepted the Technology & Innovation Award for its efforts in combining pumping, separation and operation in revolutionary ways to solve problems, resulting in lower total costs of ownership to its clients. An example of TechnipFMC's innovation and technology excellence is its work in "Parque das Conchas," a deepwater oil field in Brazil. This award was sponsored by Sulzer.