Industry leaders focus on talent acquisition and retention as the manufacturing sector grows.
Twenty years ago, Matt Eggemeyer never dreamed that he would develop a career in the manufacturing business. With a bachelor's degree in history, he thought a desk job in banking awaited him. However, when his mother urged him to give his family's custom manufacturing business a try, he honored her wishes. Today, he is chief operating officer of Keats Manufacturing just outside Chicago, and his greatest pleasure is engaging young people in the career that has become his passion.
In the decades since Eggemeyer began his career in the family business, technology has invigorated his company and enriched his professional life. For example, this year, Keats is investing in a system that can provide 100 different views of the precision metal parts it makes to improve its production. This kind of technology gives Keats a competitive advantage and provides Eggemeyer and his colleagues with a learning opportunity.
Eggemeyer is not an isolated example. The 1,200 American manufacturers who responded to ThomasNet.com's latest Industry Market Barometer survey on their growth and outlook are effusive in describing how technological advances are improving their companies and invigorating their work life. As a result, they are growing, hiring and increasing their production capacity to meet future demand. These manufacturers say their employees, market leadership, technology and innovation will help them continue to compete. Nearly seven out of 10 (67 percent) will focus on introducing new or innovative products/services this year.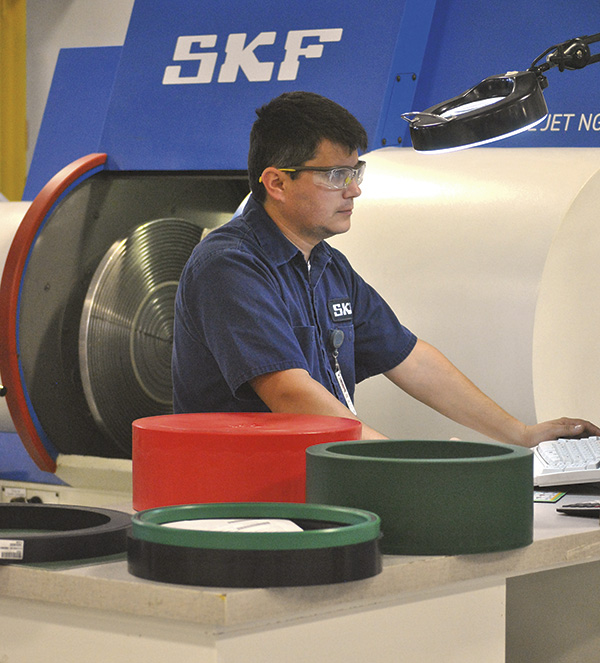 An SKF Solution Factory employee checks an interface before continuing his work.
However, at a time when innovations—such as additive manufacturing or robotics—are opening new opportunities for manufacturers, a crack is slowly forming in this positive picture. Research reveals a lack of talent from new generations that threatens this sector's future.
The Numbers
The companies surveyed are representative of today's manufacturing workforce, which is heavily populated by employees who are 45 and older. With Generation Y (18 to 32 years old) expected to make up 75 percent of the workforce by 2025 and baby boomers retiring in droves, the time is now for the manufacturing industry to acquire, train and retain a talented workforce to support the industry.
A closer look at the findings reveals a possible disconnect between the growth of these manufacturers and their lack of urgency in recruiting fresh talent to learn the business before older generations exit. Eight out of 10 manufacturers report that Generation Y represents a small fraction of their workforce, and most do not see this changing soon. The findings point to a need for a collective "succession plan" for the manufacturing sector—starting yesterday.
Benefits of Consistent Talent Acquisition
Todd Berg, President and CEO of Liftomatic, knows firsthand why this matters. Berg's Chicago-based company makes drum- and barrel-handling equipment for customers such as Smucker's, Campbell Soup Company and DuPont. This year, one of its clients tapped the company for a job full of technological complexities that it would have had to turn away five years ago. However, with a new crop of tech-savvy employees, Liftomatic was able to handle the job and sold the product for five times the price of its average order.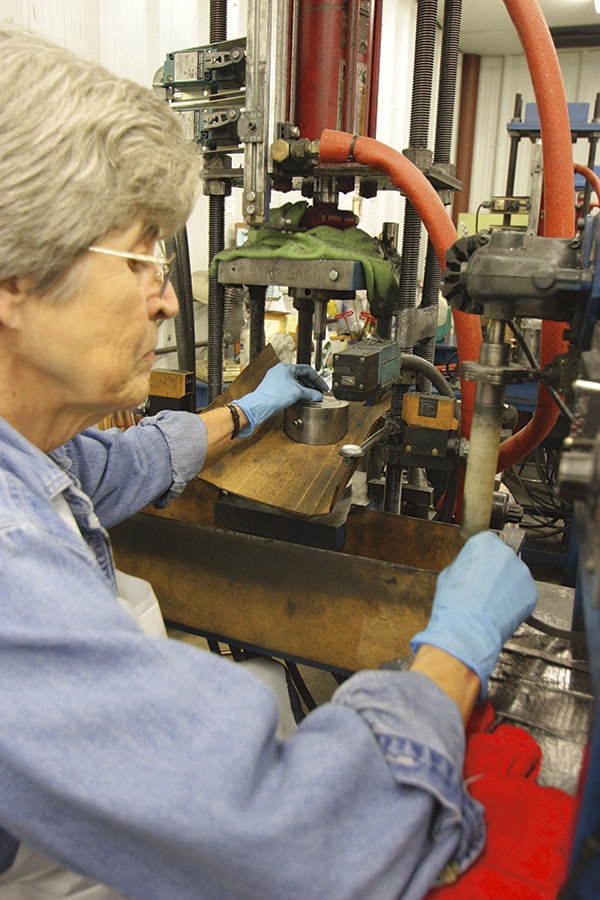 Team member Helen Edwards runs a large production order of flexible graphite die-formed rings at SEPCO's manufacturing facility in Alabaster, Ala.
For Berg, this is only one example of why companies continuously need to acquire new talent. With decades of experience in manufacturing himself, he is amazed at how requirements for success have changed in a few short years. Inside sales and customer service staff need to understand social media and web analytics to excel. Contract manufacturing managers must be adept at the latest supply chain management and logistics software. By complementing the judgment and experience of long-term staff with the fresh perspective of entry-level employees, he is able to take Liftomatic to new heights. Last year, the sales of Liftomatic's core products grew almost 10 percent.
Eggemeyer, too, knows that nurturing fresh talent is fundamental to his company's future. He is constantly persuading neighbors and friends of friends in career transitions to give Keats Manufacturing a try. "I don't find trained manufacturers. I make them," he says, and his creative approach pays off. Last year, Keats hired and retained 15 new staff members (average age 25), bringing the total number of their employees to 106.
For Eggemeyer and his peers, these efforts are not always easy. Most of the respondents to the survey (73 percent) believe that young people still have negative perceptions that may deter them from considering manufacturing jobs. They wish they could draw back the curtain and show the naysayers what they know so well—that the rewards of manufacturing are unparalleled. These manufacturers are vocal about the satisfaction they gain from creating something tangible, working in an environment of constant change, making a difference to customers from around the world and contributing to their country's economic well-being.
Pages