Sichem turned to air-operated double-diaphragm pumping technology to carefully and efficiently produce chemicals for the oil industry.
The chemical-manufacturing industry has stringent requirements for process equipment. Production efficiency, product quality and operational safety for both on-site personnel and the environment are critical concerns for any manufacturer of specialty chemicals investing in new or better processes. For Sichem, located in the United Arab Emirates' (UAE) Mussafah Industrial Area, 30 minutes by car from the capital city of Abu Dhabi, and one hour from Dubai, the critical nature of around-the-clock production schedules and the challenging daily timelines common for any oil and gas project have become routine.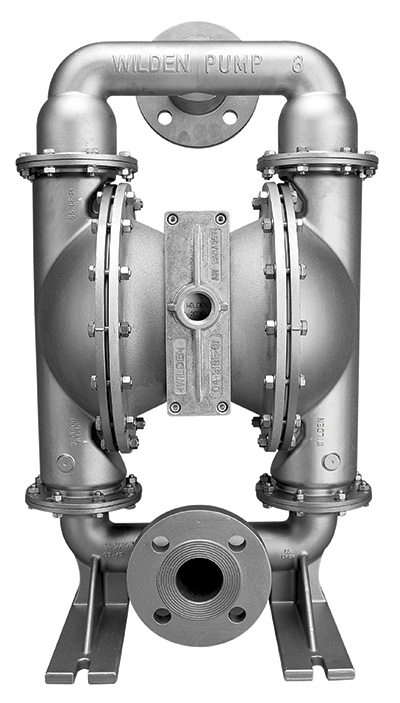 AODD pumps helped Sichem develop from manufacturing powder chemicals to manufacturing liquids.
"We manufacture specialty chemicals like drilling fluids and other chemicals like corrosion inhibitors, surfactants and detergents for use in oil and gas projects in the Middle East region," said Ashiq Mohamed Salleh, manager of production and maintenance for Sichem. Sichem's product line also includes scale inhibitors, scavengers, solvents, antifoams, thinners and biocides. Given the diverse chemicals in Sichem's product line and the potential volatility of those raw materials, safety during the production process has been a primary consideration for every aspect of the operation.
The Sichem facility houses a range of chemical reactors, blenders and powder-processing agents, along with an extensive warehousing operation and a large purpose-built laboratory. The facility's many specialized chemical operations require an array of equipment and pumps that safely deliver products throughout the process while efficiently meeting strict daily deadlines.
Finding the Perfect Pump
When Sichem decided to shift from manufacturing powder to liquid chemicals, the company learned about air-operated double-diaphragm (AODD) pump technology.
The Sichem facility uses 10 AODD pumps to transfer chemicals from drums, barrels and intermediate bulk containers to the chemical reactors.
The pumps needed for Sichem's chemical processes cannot leak. Leaks are a safety hazard for plant personnel and a cause of potential lost revenue. They also contribute to product waste and increased maintenance and cleanup expenses.
The AODD pumps are durable, efficient, reliable and provide optimum air consumption, which delivers an annual energy-cost savings. Sichem selected pumps that have minimum downtime, maximum operability and higher mean time between failures(MTBF).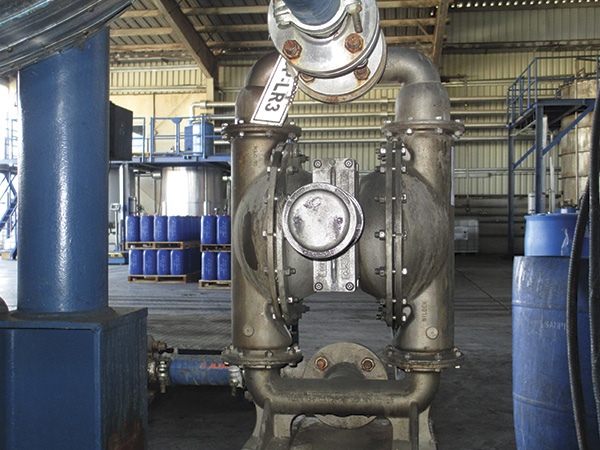 This AODD pump provides the safe, leak-free performance that is required for Sichem's wide array of specialty-chemical products.
"These pumps enable us to easily control the flow rate in the plant," Ashiq said.
The AODD pump's air distribution system (ADS) incorporates only three moving parts: an unbalanced air-valve spool, a pilot spool and the main shaft/diaphragm assembly. This design gives the pumps an enviable operating cycle that directs the pump's pressure to allow for the most efficient and cost-effective pumping of the liquid.This pump technology is safe (ATEX compliant), with portable operation, minimum parts to replace and strong build quality, according to Hussein J. Rasheed, technical director for Standard Group, a distributor for these pumps.
Sichem chose pumps with a bolted configuration to ensure total product containment and a redesigned liquid path to reduce internal friction, which maximizes output and efficiency.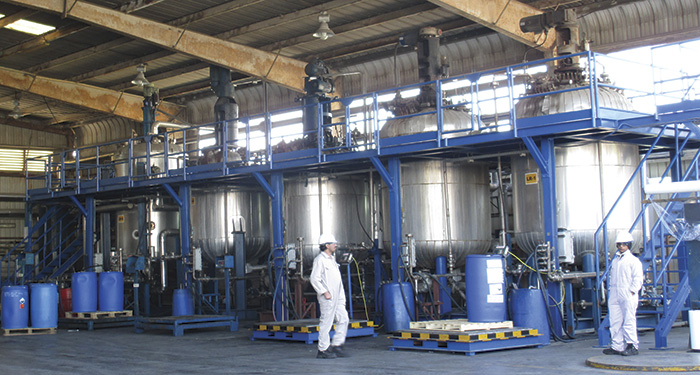 The Sichem facility uses 10 AODD pumps to transfer chemicals from drums, barrels and intermediate bulk containers to the chemical reactors.
The security of containment features and variety of elastomer options, including polytetrafluoroethylene (PTFE), makes these pumps a good choice for Sichem's business application in liquid chemicals. The specific pump model is also able to meet abrasion, temperature and chemical-compatibility concerns.
The specifications and design versatility of the Wilden AODD pump adapts to a wide range of liquid chemicals, ensuring safe handling, higher yields, lower operational costs and reliable pump performance—all key considerations in the daily operation of chemical manufacturers like Sichem.These pumps also come with options like ANSI and DIN flanges.