The triplex lift station arrangement provides a solution for grape wastewater processing.
Volume and lift—The non-clog, single vane impellers are designed for high volume and lift performance, ideal for the wet well application.
Wear resistance—All wear and wet parts (parts exposed to the grape waste)—such as the impeller, wear-plate, oil housing, pump-housing and inner pump top—are made of cast 316 stainless steel material.
Reliability—The pumps offer three-seal motor protection. The submersible motor is protected by double mechanical seals. The lower seals are made of silicon carbide/silicon carbide, and the upper seal is carbon/ceramic. An additional lip seal is installed above the impeller to help prevent abrasives from entering the seal chamber. Winding protection and National Electrical Manufacturers Association Class-F motor insulation allows motor temperatures up to 230 F, which offers an advantage compared to pumps with Class-A and Class-B insulation. An automatic switch turns the pump motor off if the temperature and/or amp draw rises too high.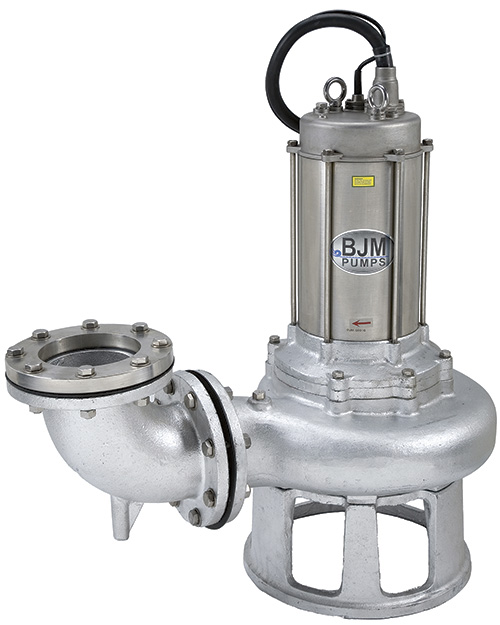 The chosen pump needed to be corrosion resistant, erosion resistant, non-clogging, minimal in size, self-priming and reliable.
System Benefits
The final system was installed in 2008. As designed, all wastewater flows to the wet well containing three submersible pumps in parallel—including a lag pump, a lead pump and a spare. They remain totally submerged for maximum cooling, even at the lowest liquid level. Effluent flows from the wet well to the equalization tank and the reactor and into aerobic settling ponds. The wastewater is held in these ponds until required for irrigation. Based on content, the ponds are drained and dredged to remove any sludge buildup.
Simpson has been happy with the system's reliability. "The pumps have been installed for five years, and during that period, the only main­tenance that was required was a single seal replacement.
"Fortunately the warning system advised of the seal failure, and we were able to easily switch to the backup pump while we replaced the seal. There was no slow down or stoppage in production."
The system keeps the winemaking process moving.
Pages