The Jordan, Knauff & Company (JKC) Valve Stock Index was up 13.8 percent during the last 12 months, while the broader S&P 500 Index was up 17.2 percent. The JKC Pump Stock Index was up 31.3 percent for the same time period.1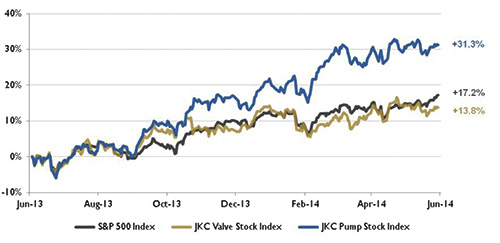 Figure 1. Stock indices from June 1, 2013 to May 31, 2014
Source: Capital IQ and JKC research. Local currency converted to USD using historical spot rates. The JKC Pump and Valve Stock Indices include a select list of publicly-traded companies involved in the pump and valve industries weighted by market capitalization.
The Institute for Supply Management's Purchasing Managers' Index (PMI) increased 0.5 percentage points to 55.4 percent in May. The New Orders Index increased 1.8 percentage points to 56.9 percent, and the Production Index climbed to 61.0 percent, 5.3 percentage points above the April reading.
The Bureau of Economic Analysis reported that U.S. gross domestic product (GDP) declined 1.0 percent in the first quarter of the year. This is the first time since the first quarter of 2011 that the economy has contracted. Weaknesses in exports, industrial output and business spending contributed to the decrease. Exports of goods and services decreased 6.0 percent during the quarter. In the fourth quarter of 2013, GDP increased 2.6 percent.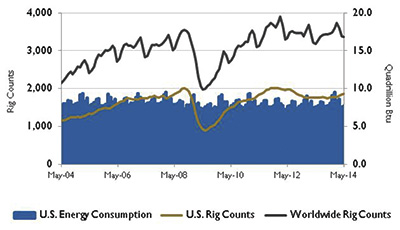 Figure 2. U.S. energy consumption and rig counts
Source: U.S. Energy Information Administration and Baker Hughes Inc.
According to the U.S. Energy Information Administration (EIA), the portion of U.S. energy demand supplied by domestic production has been increasing since 2005 when it was at a historical low of 69 percent. Last year the U.S. produced enough energy to satisfy 84 percent of its consumption. For the third year in a row, natural gas was the largest domestically produced energy resource and, along with other fossil fuels, accounted for more than three quarters of U.S. energy production. In 2013, 82 percent of the energy consumed in the U.S. was through fossil fuels, while renewable and nuclear energy made up 10 percent and 8 percent, respectively.
The EIA reported that the number of horizontal, oil-directed rigs in the Permian Basin increased significantly during the first four months of the year. The number of rigs has increased by 63, which is 50 percent of the total increase in the U.S. By the end of 2013, the Permian Basins' 215 oil-directed horizontal drilling rigs surpassed both Eagle Ford and Williston Basin. The increase in rig counts in the Permian Basin does not necessarily mean that it will have a change in oil production, but it does show that producers are drawn to this area's potential for new production.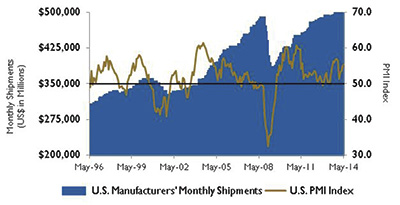 Figure 3. U.S. PMI index and manufacturing shipments
Source: Institute for Supply Management Manufacturing Report on Business and U.S. Census Bureau
On Wall Street, the Dow Jones Industrial Average gained 0.8 percent in May and the S&P 500 Index gained 2.1 percent. The NASDAQ Composite Index was up 3.1 percent for the month. Encouraging economic indicators for the month included improved consumer confidence, an increase in the leading measure of home prices and encouraging numbers in manufactured durable goods.
These materials were prepared for informational purposes from sources that are believed to be reliable but which could change without notice. Jordan, Knauff & Company and Pumps & Systems shall not in any way be liable for claims relating to these materials and makes no warranties, express or implied, or representations as to their accuracy or completeness or for errors or omissions contained herein. This information is not intended to be construed as tax, legal or investment advice. These materials do not constitute an offer to buy or sell any financial security or participate in any investment offering or deployment of capital.