Selecting the right equipment can mean the difference between unnecessary downtime and cost-saving pump longevity.
The food and beverage industry incorporates a wide range of applications that require pumps to keep materials moving through the production process.
Whether processing tough raw materials, like sugar cane, or completing the hygienic transport of finished products, pumps of all shapes and sizes play a crucial role in delivering food to the table.
Because production managers and maintenance engineers face constant pressure to minimize downtime and maximize productivity, they are looking for long-term reliability from production equipment. Achieving this goal requires a careful specification process and a well-organized preventive maintenance program.
In an ideal world, production engineers would be able to specify new pumps that incorporate the latest technology every time a process changed or an old pump failed. In the real world, however, this approach is rarely feasible. Instead, personnel must focus on the specification process and thoroughly investigate available technologies to arrive at an efficient solution with low life-cycle costs.
Increased pump reliability throughout the production process enables the use of one-pump systems without the extra cost of standby pumps. In a globally competitive industry, the proper selection of every pump is more vital than ever.
Raw Materials
Many pumps in the food and beverage industry operate in harsh environments where they transfer a wide range of materials, some of which can be particularly aggressive or abrasive. Sugar production, for example, starts with either sugar cane or sugar beet, each of which poses challenges to the processing equipment.
Washing processes create a muddy, sand-laden, abrasive water mixture that must be transferred from the washing area to a treatment system that can recycle the water. Such an abrasive suspension will need pumps that have excellent wear-resistance properties and seals that are designed to perform reliably in this hostile environment.
At each stage of the production process, a new challenge awaits: fibrous materials, entrained gases, cavitation, chemical attack, increased temperature and high-viscosity materials. In each case, personnel must analyze the application carefully to assess the challenges. This will allow the process engineer to specify the most appropriate pump for each task.
As process designers look to minimize costs, they are increasingly relying on duty pumps only and regarding standby units as an unnecessary cost. In situations where this setup is possible, the correct pump must be installed to prevent unnecessary downtime and allow routine maintenance to be completed during planned shutdown periods.
Replacement
As pump design technology advances, existing equipment suffering from reliability concerns may be replaced with a more modern alternative. In many cases, the latest pump design can deliver improvements in performance and reliability, making it a cost-effective solution.
The food and beverage industry presents a wide range of challenges including abrasive media, high viscosities, temperature, corrosion and entrained air. Identifying the most appropriate combination of design characteristics requires expert knowledge and experience.
Selecting the best replacement rarely involves just using the specification of the legacy item. The introduction of modern materials, coating systems, sealing components and impeller designs has enabled process engineers to fine-tune a pump specification to a particular application.
Pump manufacturers work closely with process engineers from many industries to better understand the issues and challenges that beset pumps of all sizes. This collaboration leads to improved designs—not just of complete pumps but also of individual components that can be retrofitted to existing equipment.
Technical Support
Maintaining pump performance is crucial to maximizing productivity, and this task can be achieved more easily by understanding the most likely causes of faults and failures. Getting the specification correct is essential, but so is the installation and alignment of the pump. Proper implementation of these crucial steps is essential for achieving a reliable installation.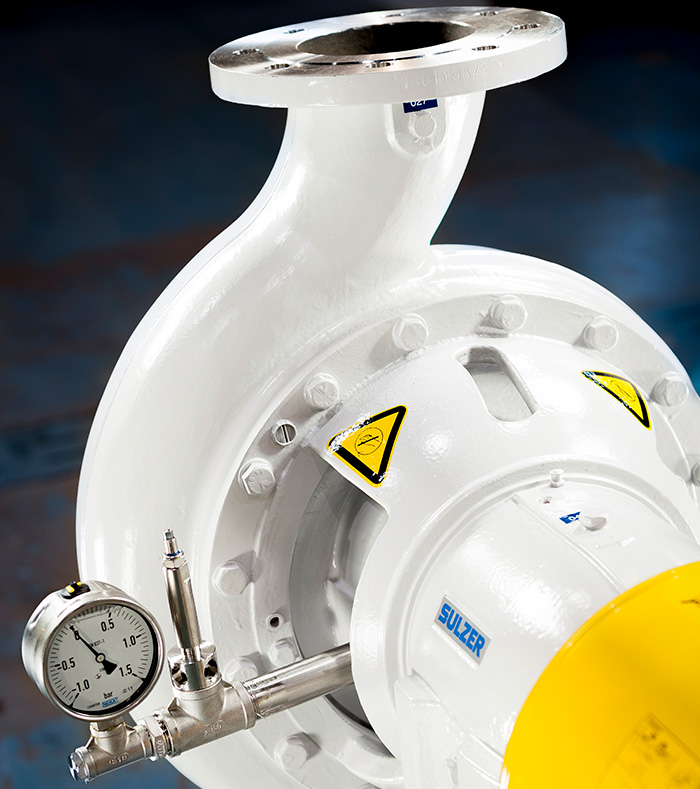 Image 1. A centrifugal pump with internal gas removal for applications with gas content as high as 70 percent (Courtesy of Sulzer)
Combining the process knowledge of on-site engineers with the product and materials expertise of an original equipment manufacturer (OEM) can produce the most successful outcome. Close collaboration between the engineers and OEM from an early stage in the project will yield the best results for an installation and form a basis for continued support.
Every pump will need attention at some point. Production lines may need to be adapted to suit new processes or materials, which will require expert advice to maintain reliability and performance.
Working directly with a pump manufacturer affords many advantages, including access to the latest materials designed to operate in existing equipment and a wealth of experience applicable to each industry. Employing a global manufacturing and engineering network ensures that this high level of technical support can be accessed anywhere in the world. By channeling this expertise to a single, local point of contact, end users can benefit from a global support structure.
Duplex Stainless Steel
In recent years, duplex stainless steel has been used more commonly in manufacturing, mainly because of advances in steel-making techniques. The food and beverage industry has long used stainless materials such as 316SS and 317SS, but the numerous grades of duplex stainless steel that are now available bring additional benefits.
Duplex stainless steel can have twice the design strength of austenitic and ferritic stainless steels as well as improved resistance to corrosion, abrasion and pitting.
Case Study
Installing properly specified, modern pumping equipment can deliver significant benefits to a business, as one wet corn milling operation in the Midwest U.S. discovered.
In the original process, two conventional centrifugal pumps were used to transfer a slurry mixture of starch, gluten and fiber from a storage vessel to the fiber separation screens. The liquid contained between 20 and 30 percent air, so the processor had to use large amounts of defoamer to reach the required production rate.
Analysis of the application showed that both of the original pumps could be replaced with a single duplex stainless steel, self-priming, gas-removal process pump capable of producing a head of 230 feet at 1,800 to 2,000 gallons per minute.
As soon as the new pump was installed, the amount of expensive defoamer the facility had to use was reduced by 90 percent. This reduced expenses and had a positive impact on the quality of the final product.
Coupled with improved reliability and performance, the new equipment proved to be a cost-effective solution.