These pumps do not shear, and they provide consistent flow of fluids of different viscosities.
For more detailed information on the distinctive processes and innovations manufactured at the Enon, Ohio, seepex facility, explore the images and videos on our exclusive Pumps & Systems on Tour website. You can also see exclusive video coverage of the case study described in this article.
Progressive cavity pumps can aid when pumping harsh, high-viscosity or solids-laden fluids. The different ranges of progressive cavity pumps can gently meter and convey fluids of any viscosity in a wide range of temperatures (especially with even wall stators)—with or without solids.
Pump Operation
In a progressive cavity pump, a single helix rotor turns inside a double helix stator to create cavities that progress from the suction to discharge to create flow. The compression fit between the rotor and the stator creates seal lines that keep the cavities separate as they move through the pump with each rotation.
The compression enables the pump to act like a valve. The result is flow with very little pulsation and low shear rates. Slip is less of an issue, and when the pump stops, nothing flows through it. The compression between the rotor and stator allows users to mount the pumps vertically. Non-suspended solids in slurries will not settle in the pump casing and cause wear issues when the pumps are mounted vertically. The pump works with gravity by allowing settled solids to drop into the cavity.
Applications
Typical applications in which progressive cavity pumps can replace centrifugal pumps and control valve combinations include: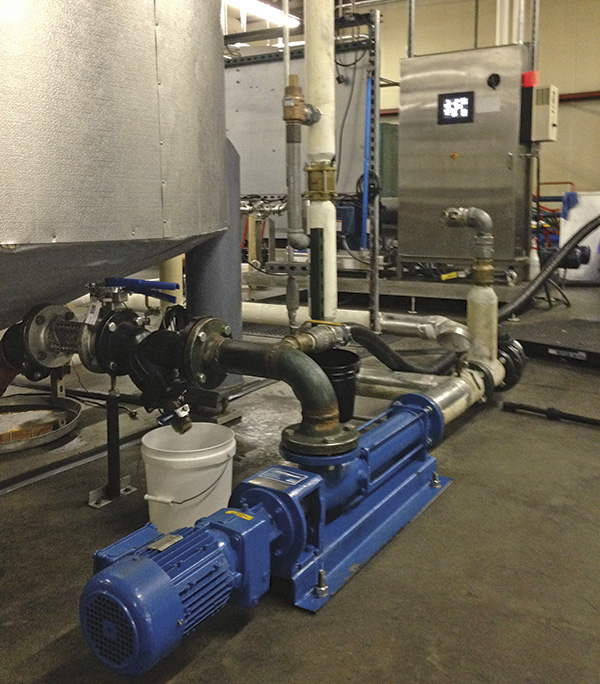 A progressive cavity pump installed at the base of a tank transfers additive liquids to a mixing skid.
Wastewater treatment
Chemical metering
Any application in which flow control 
is a variable
For example, an application transferring slurry to a blending tank would typically prompt the need for a centrifugal pump and a control valve to regulate flow. When considering process controls, a progressive cavity pump, flow meter and variable frequency drive are a simpler solution than a centrifugal pump and valve combination. A progressive cavity pump self-primes and is a pump and control valve in one, providing better flow control.
Specialized Chemical Production
The global chemical manufacturing industry generates about $5 trillion in annual revenues. Several of the world's largest chemical producers are in the U.S. Recent reductions in energy costs—mostly relating to multidirectional drilling and hydraulic fracturing—have caused a resurgence in the U.S. chemical industry.
Many companies, such as Quaker Chemical Corporation, are taking full advantage of the increase in chemical demand in the U.S. Quaker provides process chemicals, chemical specialties, services and technical expertise to a wide range of industries—including steel, automotive, mining, aerospace, tube and pipe, coatings, and construction materials.
With its 2011 acquisition of G.W. Smith & Sons Inc., Quaker became a provider of die casting lubricants. A 70-year established business reputation and a line of complementary products made this company an ideal fit for Quaker.
Operating in Dayton, Ohio, G.W. Smith produces die casting lubricants and metal working fluids. The process includes high levels of precise chemical mixing. Chemicals are combined with temperature additives to accommodate each client's specific recipe.
During an expansion in 2006, the operations systems engineering for G.W. Smith developed an inline emulsification system. The mixing system is fed by a large storage tank or reactor. The storage tank is set on load cells to ensure proper feed levels. A pump manufacturer's progressive cavity pump was installed at the base of the tank to mix the liquid and add surfactants as needed. The load cells communicate with the skid, which mixes the base lubricant.
The mixing skid uses two of the progressive cavity pumps and a high-shear mill to mix oil, surfactants and water. After a chemical reaction, the material goes through another high-shear process. The resulting effluent is then mixed with other additives and can be altered further for each customer's needs.
A beneficial part of the G.W. Smith offering is that the end solution of the lubricant can be customized to match the customer's process. For this, the company staffs a full-time chemist. When the final mixture has been developed, it is pumped to a filling system that packages the chemical for delivery.
seepex, Inc. – Oct. 30, 2013 – Enon, Ohio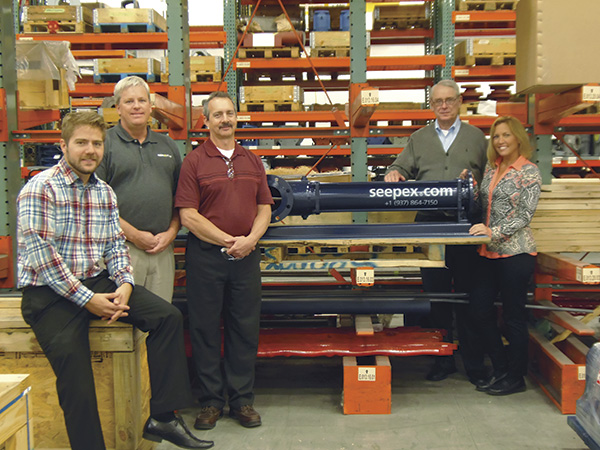 Daniel Lakovic, Joe Zinck and Michael Dillon give a tour of the Enon seepex facility to
Pumps & Systems
' Derrell Moody and Michelle Segrest.
ENON, Ohio (Oct. 30, 2013) – Represented globally in more than 50 countries, seepex, Inc., has manufacturing facilities in Germany, China and the U.S. Pumps & Systems toured the 82,000-square-foot facility in Enon, Ohio, where highly-engineered progressive cavity pumps are manufactured.
This facility includes a 51,000-square-foot expansion that has allowed seepex to build pumps larger than 35 feet and as heavy as 10 tons. The addition increased the capacity of the facility and allowed the company to incorporate cellular manufacturing into its production methodology, resulting in faster throughput and reduced lead times.
The new seepex facility addition is home to an elastomer lab. The lab's technicians and chemists allow for more advanced global elastomer research and development within seepex. Previously producing 20 percent of the company's stators for its pumps, seepex, Inc., has increased stator 
production to provide 80 percent of its global needs. The company has also experienced an 18 percent average annual growth sustained throughout the last 16 years.