Innovative design, engineering and high-performance testing highlight the KSB pumping system to be installed 85 meters beneath the River Thames.
"We see a trend now that more big cities are using deep tunnels. One reason is increased awareness of the environment, so they think about CSO solutions. These solutions involve deep tunnels because all the other space in the ground is already occupied by metro, gas, normal sewage systems—all kinds of existing infrastructure."
For the URS-422 project in St. Petersburg, Russia, KSB used smaller, dry-installed submersible pumps at a depth of 92 meters, Ulmschneider said. The best solution for this particular project was more pumps—12 of them—but the flow capacity of each pump was lower. "Because of this deep tunnel trend, we developed a complete range of pumps for both pure dry installation or dry-installed submersibles," Ulmschneider said. "We expanded our existing range to meet the requirements of the trend."
Each deep tunnel project requires a fully customized solution.
"During the early stages, the client often needs help defining solutions for their particular project," Ulmschneider said. "We can customize the project to meet specific needs. KSB is the only company that has this kind of variety, which is an advantage for us. Every owner, every utility and every location has different requirements and challenges, so this range is critical. A company will invest billions into a project like this, and the pumps have to work."
Building the Lee Tunnel Super Pumps
In 2011, GIW Industries received an order from KSB, its parent company, to build the four massive pumps for the Lee Tunnel project. Because the scope of this project forced the pumps to be large, it played into GIW's strength, according to Bob Visintainer, GIW's VP of Engineering.
GIW builds huge pumps for the mining industry and manufactures large castings. Some of the existing hydraulics were already in place, thanks to the LSA-84 dredge pump that was built by GIW in 1987. This was used as the flagship design for the Super Pump.
"We were challenged with building these hydraulics into a vertical configuration," Visintainer said. "GIW designed the mechanical end and the vertical configuration. The wet end parts are similar to pumps we have built before, so there were no surprises there."
The design process took about 16 months with a team of 15 engineers and CAD operators, Visintainer said. For this project, there were two engineering teams—one on the mechanical side and one on the pumping side.
"This project is important for a number of reasons," Visintainer said. "The pumps alone are a multi-million dollar order. The government of the capital city of an important European country supports the project, which makes it high-visibility. A lot of people are watching it closely. The issue of stormwater storage is a big one for many cities."
The mechanical seal is complicated and was specially made for this pump by EagleBurgmann design engineers Hans Steigenberger and Peter Haselbacher. The Lee River HGH 300S1/400-E1 seals have split seal faces, which can be replaced without tearing down the pump. The seal weighs 300 kilograms with a shaft underseal that measures 279 millimeters (11 inches) in diameter (see "Mechanical Seal Technology").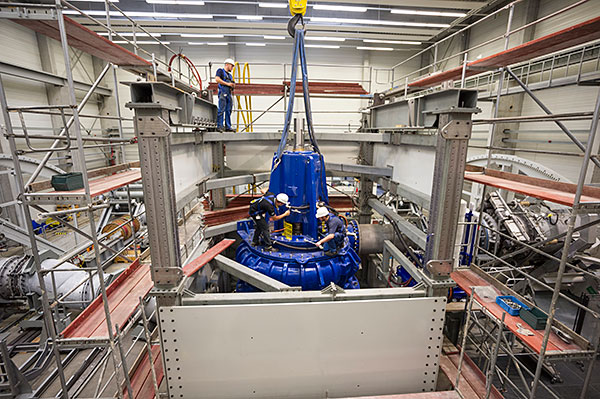 Image 2. Disassembly of Super Pump No. 2 after hydraulic performance testing. Photo courtesy of
KSB
"Once these pumps go down into the pit, anything that has to be done to them will become very complicated," Visintainer said.
"Our focus is on reliability. We have to consider what could potentially go wrong. We worked with the designers at EagleBurgmann to go through every possible scenario so that we would have the best chance of a flawless operation."
Testing, Part One—Rag Monsters
In wastewater pumping, the easiest thing to pump is water. The hardest thing to pump is rags, Ulmschneider said.
"Wastewater pumping is unpredictable," he explained. "You never know what you are going to get. When it comes to rags, no one knows how they will behave because there is no data of record for testing rags with a pump of this size." The rag tests were the most groundbreaking tests performed on the Lee Tunnel Super Pumps. These tests established a basis for all future wastewater pumping.
"Thames Water wanted to be sure to minimize the potential for blockage," Visintainer said. "This whole system depends on these four pumps running properly, so this test became one of our most critical steps in the entire process."
For the rag testing, the passing requirements were specific: 2 kilograms dry weight of rags per cubic meter to a maximum length of 1 meter must be pumped for six hours at three different duty points without clogging the pump.
The rag tests were performed at GIW's Grovetown facility and lasted four months (November 2012 – February 2013).
"We discovered quickly in the test lab that the liquid was recirculating at 350 rpm once every 15 to 30 seconds. In one hour, every rag was going through 100 to 200 times," Visintainer said. "The fibers of the rags began to tangle and form what we called 'rag monsters.' These were clumps bigger than two grown men (nearly 5 meters), which created blockages within 30 minutes (see Image 3)."
Pages