The economic recession and a decline of skilled workforce drives the pump servicing industry.
Servicing is an integral part of the pump industry. After motors, pumps are the second largest machinery component used in the world. Given this large installed base, servicing this equipment has always been a lucrative industry, but several factors are currently driving further growth of the pump servicing industry.
During periods of economic recession, the pump servicing market typically gains significant momentum. As end users curtail investments in new projects and postpone the purchase of new pumps, they are forced to use pumps for longer periods than originally intended, resulting in a greater need for services than in an economic growth scenario.
Normally, seals are replaced every two years and preventive maintenance happens every six months to two years. When pumps are used for longer periods, mean time between failure (MTBF) decreases, and the pumps are serviced at a much shorter interval.
Another factor driving the pump servicing industry is a decline of skilled workforce. The U.S. Bureau of Labor Statistics' current population survey reports that in 2008, 53 percent of the utilities industry workforce was 45 or older, and 18.1 percent was older than 55. Therefore, the industry is faced with an aging workforce at the same time that new capacity is needed, which places significant pressure on the industry to find and train the next generation of operations and maintenance personnel. In its employment outlook for the utilities industry, the Bureau of Labor Statistics reports that, for many utilities industry occupations, on-the-job training is intensive, so preparing the upcoming workforce will be one of the industry's highest priorities during the next decade.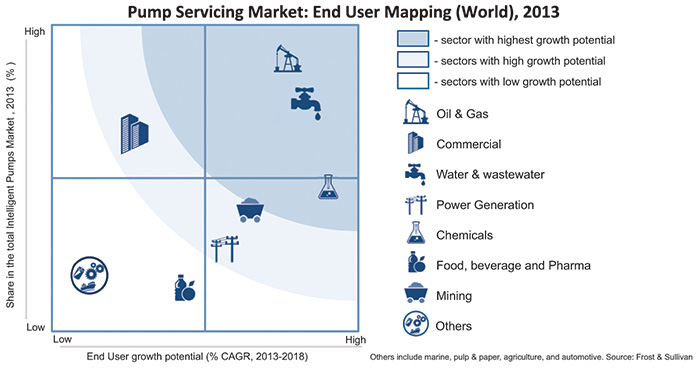 Pump servicing market—end user opportunity matrix
Pump Servicing Industry Analysis
Data is readily available in the utilities industry because it is heavily regulated. This industry's general trend is mirrored in most industry verticals across the manufacturing and process spaces. In the near future, a larger number of employees are likely to retire within a short time span and the need to find qualified employees to replace them will become a priority. Pump manufacturers and distributors can benefit because it provides an opportunity to act as the extended servicing arm for customers that no longer field full internal service departments.
End-User Analysis
The oil and gas industry is the largest and most demanding end user of pump services because of the hostile operating conditions, as well as the aggressive and dangerous media that is handled. Subsea application and submersible application in offshore processes have the highest pump failure rate. Oil refineries and petrochemical industries are also large consumers of services.
In the chemical industry, value added services (VAS) such as asset management and condition monitoring are essential for increasing performance and the safety levels of the entire plant. The lack of interchangeability of spares among pumps makes repair, maintenance and having spare parts inventory crucial.
Because of its large installed base of pumps, the revenue generated by the water and wastewater industry for the pump services market has been high. Most of the core assets—such as water pipelines and sewers—are old and frail, which augurs well for service providers. End users face several issues—such as cavitation, frequent damage to mechanical seals, bearing misalignment and corrosion of internal parts.
The food and beverage industry places high priority on quality with hygiene and, therefore, has a high demand for spares to ensure non-contamination of food and a leak-free environment. Centrifugal, rotary lobe, air-operated diaphragm and peristaltic pumps are used in applications for producing or processing dairy products, meat, bakery products, confectionery, syrups and juices.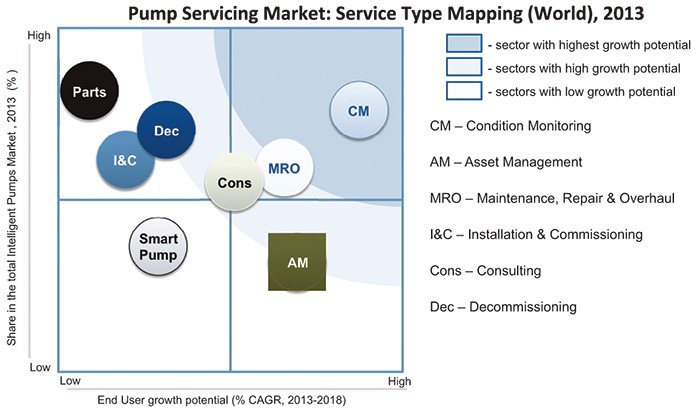 Pump servicing market—service type opportunity matrix
Service Analysis
Because of the global economic slowdown that resulted in new projects being delayed and shelved, pump services for maintenance, repair and overhaul (MRO) have assumed greater significance. MRO services improve the overall condition of the pump, facilitate checks of the critical parts and help determine the suitability for reuse. Moreover, the time taken to conduct these services is reduced compared to new pump installations. Apart from cost savings, the other advantage of using MRO services is having consultants and specialized technical personnel analyze the entire process.
Because of new projects being delayed or shelved, the market revenue stream from new pump installations and subsequent commissioning services has gradually reduced. High purity applications in the pharmaceuticals industry, subsea applications in the oil and gas industry, and submersible pump installations in the water and wastewater industry account for the major portion of the installation services revenue. Decommissioning of pumps in the chemical process, pharmaceuticals, and oil and gas industries handling aggressive and volatile media is cost intensive.
VAS has constantly evolved throughout the last decade, resulting in the development of new technologies. Certain conservative, end-user industries have been slow to adopt new technologies, but this trend is expected to change in the long term. As the cost of technology is expected to decrease over the long term, the opportunities for VAS seem copious.
Pages