Many industry leaders answered key questions about the pump marketplace in 2017. The Pumps & Systems editorial team selected excerpts from their responses to help you prepare for the new year.
Editor's note: For more content from selected industry leaders, click on the orange highlighted names below.
What should end users know to be up to date on IoT/cyber security? How would you describe the industry's readiness to deal with this issue?
IoT changes the traditional model of internet communications from machine-to-machine to machine-to-object. In IoT, anything living or inanimate can be an object. IoT enables the control, monitoring and access to the object. Today, IoT can monitor your blood sugar levels, heart rate, steps taken and the quality of your sleep. Moving forward, IoT technology will be used in preventative maintenance, diagnosing pumping issues, and help save plants millions of dollars in repairs and plant outages.
George Harris
President, Hydro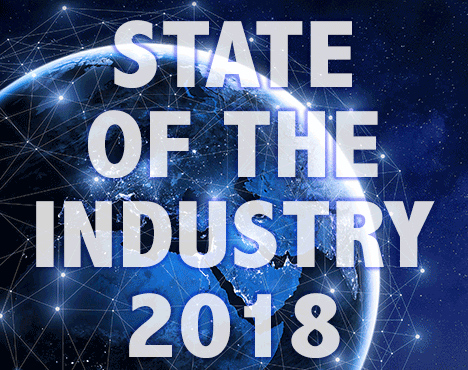 See more of our State of the Industry 2018 coverage.
Pump operators should be thinking about two areas: the platform, and the killer applications that will sit on that platform, which will make a difference in the management of a plant and a fleet of equipment. We believe the platforms will continue to evolve over the next several years, but end users should start investigating the applications that can create real value for them while the platform market develops. Many applications can run on a platform or on a stand-alone basis. The winning platforms will need to be open to the killer applications to gain significant traction.
Robert Miller
Director of Prognostics, Reliability and Service, John Crane
Users will continue to benefit from the unique insights that new digitization platforms are providing into their businesses. These insights are assisting in the rapid development of strategic leadership directions for producers and their customers. It is improving the delivery of products and services that meet their challenging demands and new applications. We will see users who have invested into these platforms start outperforming their peers who have not.
Michael Robinson
National Marketing Manager, Projects, Solutions and Services, Endress + Hauser
Are changes in the workforce affecting your company?
With unemployment at a low level, we are finding it more and more difficult to find new people with the skill set to work in our factories. What we have done to alleviate this problem is develop a ˜learning cell to run our machines. New employees work as apprentices for six months where they are rotated through various machines every six weeks. We also work closely with local high schools where we have open houses throughout the year and the area vocational schools to give tours and find the top prospects. We have been fortunate in filling professional positions such as engineering, sales and marketing staff. Even though there appears to be fewer candidates, the open positions are being filled.
Kevin Jagielski
Director, Sales and Marketing, Graco, Inc.
I think brain drain is a concern for every company in our industry. As a result of the mass exodus of baby boomers departing the workforce into retirement there is a vacuum of ˜tribal knowledge that is in jeopardy of exiting with them. Attracting younger employees combined with a continually scheduled ongoing training program (in house as well as external) and maintaining a centralized location of easy to find data is a must to have any chance to not only grow but to preserve current business. Industrial distribution especially with a focus on pumps, motors and gearboxes is not always the sexiest industry to recruit potential millennial employees to and a lot is done through industry associations, word of mouth, educational/school outreach or even headhunters.
Mike Pulley
National Sales Manager, Bartlett Bearing Company, Inc.
Like most manufacturing companies, ABB is impacted by: an aging workforce, changing skill sets, low unemployment, a pipeline of talent focused primarily on mid-career/experienced hires , a lack of interest in working in manufacturing. In the past, we would have looked to public and higher education to make sure they knew our challenges and were addressing them with their curriculum, training and recruitment strategies. We have a much different perspective today. Instead, we are taking the lead, in partnership with public and higher education, to fill our pipeline of talent, focused primarily on high school students. We will do so through K-12 outreach, enhancing career and technical education facilities and technology and exploring the use of apprenticeships to ensure our pipeline is prepared with real world learning opportunities. These efforts will ensure that our business grows and we stay ahead of our competition.
Jason Green
Vice President Human Resources, ABB Motors and Generators Business Unit
Pages