Exclusive coverage from Zambia & Malawi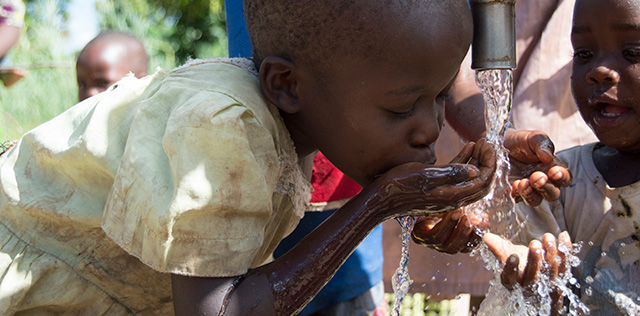 In the heart of the Kasungu District in the Central Region of Malawi, a 45-year-old grandmother of six stoops to slice fresh okra into a large woven basket. The red brick behind her glows against the backdrop of lush green Acacias, banana trees and broad tobacco leaves. It is the end of the rainy season, and soon the crops will be harvested and dry air will suck the life out of the ground.
Even during Malawi's driest days, the bucket of clear, cool water sitting in the red dust by this woman's feet will be filled again and again. Children will continue to drink, and gardens will still grow.
For Vickness Nyirenda and her neighbors in Zolomondo village, a simple hand pump has changed everything.
The Gift of Clean Water
In November 2013, Zolomondo received a gift that transformed the entire community: a deep-well, progressive cavity (PC) hand pump known as the LifePump.
Provided by humanitarian engineering nonprofit Design Outreach in partnership with World Vision and private donors, the LifePump is engineered to reach depths of 325 feet—more than twice that of a typical hand pump. It supplies a consistent flow of clean water, which for this community, is life-saving.
Supplied by SEEPEX, a German-based pump manufacturer, the LifePump's PC pumping elements work to continuously and efficiently move water to the surface with every turn of the handle. Unlike piston pumps that lift the entire column of water with one push of the lever, this design allows virtually anyone—regardless of strength or size—to access safe water.
Nyirenda no longer has to wait for hours or hack away at the earth with a hoe to ensure her family has enough water to survive. She no longer has to fear for her life.
"Even if I come to the pump late or there are others gathered," Nyirenda says in native Chewa, "my family and I are certain we will get water."
This design gives her confidence that she can easily pump the water herself and that there will be enough.
Pages